April 2nd, 2011 by katie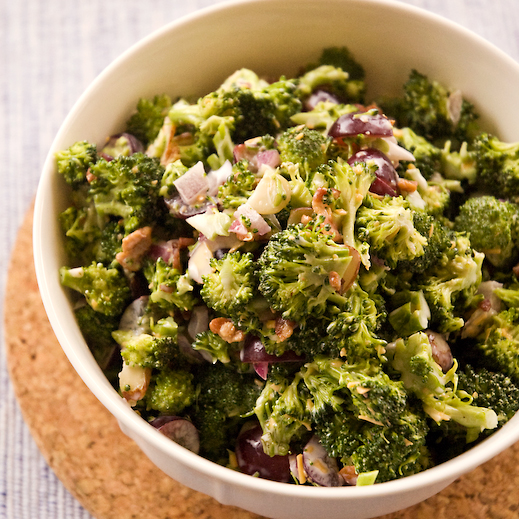 We used to have a potluck nearly every weekend at work.  Because if you had to be stuck at work on the weekend, at least you could spend twelve hours eating and laughing.  This broccoli salad is a great addition to the heavier dishes and sweets that invariably make up potluck fare.  I have never been a big fan of raw broccoli but in this salad the dressing softens and removes the woodsy texture from the florets.  The combination of grapes, sharp cheddar, bacon, and nuts results in a sweet, salty, crunchy, creamy hit of a salad.  Be sure to mince your ingredients so everything is around the same size and each bite will consist of a bit of each component.  I prefer the textures and flavors after a night in the fridge and the broccoli is hearty enough to hold up for several days- if it lasts that long.
Broccoli Salad
makes about 6 cups, prep 15 min
2 large heads of broccoli, florets only, diced
6 slices of bacon, minced, cooked
1/4 cup small red grapes, halved or quartered
1/4 cup sharp cheddar, finely shredded
1/4 cup red onion, minced
1/4 cup sliced almonds
1 cup mayo
1/4 cup sugar
3 tbsp red wine vinegar
Combine broccoli, bacon, grapes, cheddar, onion, and almonds in a large bowl.
Mix together mayo, sugar and vinegar.  Pour over salad, toss and chill.