January 12th, 2011 by katie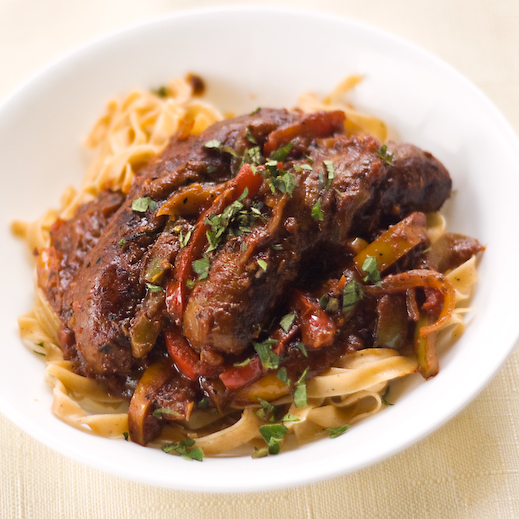 I made this dish back in the fall when Elise from Simply Recipes made it.  It sounded like the perfect comfort food and at the time it was.  But since then, life has changed.  Not that the original recipe is hard, it is not, but because after working all day it sounds easier to throw everything in a baking dish and let the oven take care of it.  I still have to do the dishes, but at least I can get them done while dinner is baking instead of after the kids are in bed! (When, let's face it, I would rather go to bed too.)
I was inspired to make my own version of this dish after see Aggie post it on facebook.  It was easy enough to make after work and supplied us with several generous servings of leftovers to take to work and share.
Sausage, Peppers, Penne, and Parmesan
serves 8, prep 15 min, cook 45 min
3 bell peppers, sliced, green, red, and yellow
1 red onion, sliced
1 lb fresh Italian sausage
1 lb penne pasta
2-3 cups marinara sauce
Parmesan cheese
Heat oven to 400°F.  Slice peppers and onion.
In a baking dish layer peppers and onions, sprinkle with salt and pepper or Italian seasonings as desired.  Frankly I was in such a rush I don't think I even remembered to salt it and it still came out fantastic.
Place sausages over peppers and place in the oven to bake.
Meanwhile cook 1 lb penne pasta. Clean up kitchen.  Change out of suit and into pajamas.
After about 20 minutes check sausages for browning and flip them as needed to brown them all over.
When sausages are browned and peppers are soft, remove the dish.  Remove sausages to a cutting board and slice into think chunks.
Stir marinara sauce into veggies as desired, leaving fairly chunky. Stir sausages back in.
Toss pasta with sauced veggies and sausage.  Serve sprinkled generously with Parmesan.
This is such an easy dish and while in the past I would have made a tomato sauce to go with it, I have found several jarred sauces at the store that have exactly the ingredients I would use and nothing else.  I feel pretty good about using them as a shortcut (and let's face it they taste great and can be paid for with a song) but feel free to use your own homemade sauce that you thoughtfully made ahead of time and stashed in the freezer.  Then send me the recipe so I can be thoughtful and do that too.

Posted in Easy, Main Dish, Uncategorized