January 8th, 2011 by katie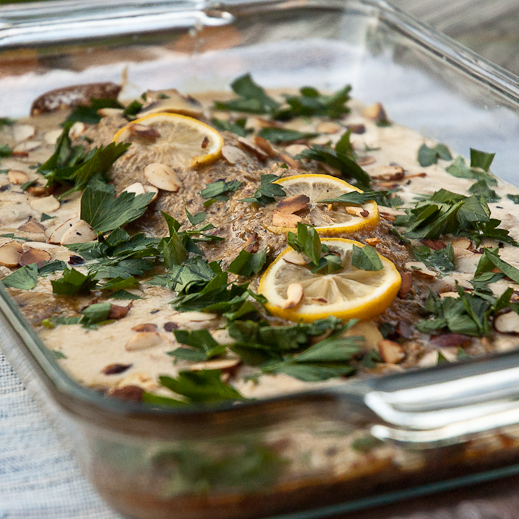 Considering my last post, this probably isn't the first thing thing you would expect me to post.  In fact, I made this during Ramadan and am only now finding the words to post it here.  This is an amazing dish and the one I wanted to share with you first.
I love Lebanese food.  My roommate and best friend in college was Lebanese and I fell in love with the culture and the food through her family's dishes, lovingly shared.  It was my first experience in life with trying something "different" with an open mind and heart.  I first saw this recipe on Chicho's Kitchen, a beautiful blog written by a Lebanese woman living in Paris.  I love her posts because I finally have recipes for many of the wonderful dishes I fell so madly for during college.  I saved it then but I didn't actually try making myself until after I tried this same dish at a Ramadan dinner held for the patients at the hospital where I work.  It was delicious and I knew immediately from the ingredients it had to be this recipe.  I couldn't wait to try it myself at home and it was spot on and just as tart and rich as the original.
I have roasted lemon slices several times before and it sounds crazy but it comes out beautifully.  Slice it very thinly, peel and all, and it roasts into a sweet and sour delight that adds punch and flavor to chicken or fish.  Also, there are many recipes, names and spellings for this dish but this one was exactly what I was looking for.
Samkeh Harra or Lebanese Hot Fish
serves 8, prep 30 min (during cooking), cook 45 min, adapted from
Chicho's Kitchen
1 lb red snapper
10 cloves garlic
1/2 tsp dried chili flakes
2 tbsp fresh cilantro
salt
1 tsp cardamon
1 tbsp cumin
1 tsp coriander
3/4 cup lemon juice, divided
1/2 cup olive oil, divided
1 whole lemon, thinly sliced
4 oz mushroom, thinly sliced
1 cup tahini
1/2 cup+ water
chopped parsley
sliced almonds, toasted
rice, for serving
Pre-heat oven to 400°F.  Pat fish dry.
Combine garlic, chili flakes, and cilantro in a food processor with a few pinches of salt until a paste forms.
Divide the paste in half and to one half add cardamon, cumin, coriander, 1/4 cup lemon juice and 1/4 cup olive oil. Mix well.
Spread mixture all over fish fillet and place it in a baking dish.  Place lemon slices over fish and around the baking dish.  Sprinkle with sliced mushrooms.  Cover with foil.
Bake fish for 45 minutes or until it flakes easily with a fork.
Meanwhile, heat 1/4 cup oil in a skillet and add the other half of the garlic paste.  Saute it briefly so the garlic does not burn and set it aside.
In a saucepan, heat tahini and add the remainder of lemon juice.  The mixture will get very chunky and look seized, add water or additional lemon juice (don't make it too sour) until it forms a smooth sauce. Salt to taste.
Toast almonds until golden and browned, chop parsley for garnish, make rice.
Once fish is cooked, pour tahini sauce over and around the fish.  Sprinkle parsley and almonds all over, serve with rice.
Thank you again for all of the thoughtful, kind words of support.  It is a new year and while I am not strict with resolutions, mine is to be better.  Better at friendships, better at being patient and happy after a long day at work, and better at this.  So far, so good.

Posted in Main Dish