January 20th, 2011 by katie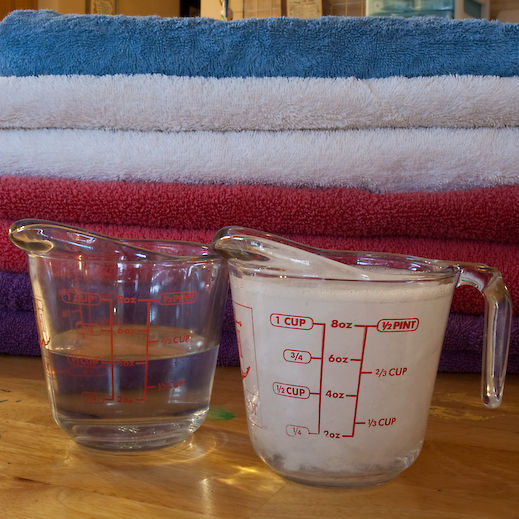 Laundry soap is one of those things that drives me crazy.  Like paper towels and plastic baggies.  It is completely disposable yet we spend huge amounts of money on it.  In addition the primary ingredient in that expensive jug of laundry detergent is water. WATER.  So I make my own.  It isn't hard (and yes I still do it even now that I work full-time) and it washes the clothes just as well as Tide did.  I would like to think it is better for our skin, allergies, etc… but we never had a lot of problems there to begin with so the jury is still out.
So for those of you who said you'd be interested here is how I make my laundry soap.  There are lots of recipes out there for laundry soap but this is the one I use, primarily because it is easy and doesn't require a lot of ingredients.  Let's just get the disclaimer part out of the way upfront, shall we? Disclaimer: I am not responsible for any damage to yourself, loved ones or property as a result of using this recipe or attempting to make your own laundry soap.  Exercise due caution with the ingredients and if swallowed or splashed in eyes call poison control.  Let's all just use our common sense now, 'kay?
Here is the part that is going to drive you crazy.  I don't measure my laundry soap or ingredients down to the last gram or ounce.  I have a large plastic cat litter jug that I cleaned out and it probably holds about 3 gallons of water.  You can use a 5 gallon paint bucket or a 1 gallon milk jug.  What's important is that you have a container with a lid that will hold enough soap that you aren't constantly refilling it and is convenient to store.  For me the cat litter jug works because it has a lid and a handle and I can tuck it away in the laundry room like I would regular detergent. 
Home-made Laundry Soap
makes about 3 gallons, halve the smaller amounts to make less, use the higher amounts to make more
1/2 bar soap (like ivory, plain soap devoid of additives or lotions)
1/4-1/2 cup borax
1/4-1/2 cup washing soda
hot water
Bring a couple of cups of water to a simmer in a medium pot.  Use a metal grater to grate 1/2 bar of soap or chop it finely.
Stir soap into simmering water until bubbily and no soap chunks are visible.
Meanwhile, in large container with a lid, fill about 1/2 way with warm water. Add borax and washing soda. Stir or shake until combined.
Add soapy water then top off with water until container is full.
Stir or shake container until thoroughly mixed then allow to sit overnight.
To use, add one cup per load.
That's it.  I have made it several different ways and this is how I make it now.  For fabric softener you simply add 1/2 a cup of distilled white vinegar to each load with the rinse cycle, the same way you would add regular store bought softener.  This works two ways: one, it is a booster for your home-made soap and two, it actually softens your clothes just as well as store-bought softener.  Here are some questions that I have answered for myself, you can add more in the comments and I will answer them the best I can.
Will my soap work in my HE front-loading washer?
Yes, it apparently works in a regular washer too but I have a HE front loader so I know it works just fine there.
Do your clothes smell like vinegar?
Surprisingly no.  In fact they smell like nothing.  Which can be really hard to adjust to if you are accustomed to a heavily fragranced soap.  You would be surprised how hard it is to adjust your brain from the "smell of clean" to actually clean.  You can add a few drops of essential oil to your soap but I got tired of trying to come up with a scent and just stopped bothering.  Now I can actually smell that my clothes and linen are clean without relying on perfumes.
How is it possible you don't measure the ingredients??
There are a million "recipes" for homemade laundry soap out there and the amounts used vary widely.  I really encourage you to make a batch and see what you think.  I started with a 1/4 bar of soap, 1/4 cup borax, and 1/4 cup washing soda but it didn't gel as nicely as I wanted it to, so I added more soap.  Then I decided I wanted it to be a little more powerful so I added more borax and washing soda.  The instructions on each say to add 1/2 cup per load so 1/2 cup of each in several gallons of hot water is hardly pushing any limits.
Does it really clean as well as Tide?
In my experience it does.  You will still want to pre-treat really tough stains and I still add bleach to our underwear but otherwise it washes dirty clothes just as well.
So that's it folks.  I haven't bought laundry soap in many many months and I don't think I will again.  I make a batch of this about every couple of months and the hardest part is remembering to mix it up the night before.  I still haven't run out of borax or washing soda or soap since I originally I bought it for my first batch (for a few dollars).  If you have more questions I will try to answer them the best I can in the comments.

Posted in Budget