January 17th, 2011 by katie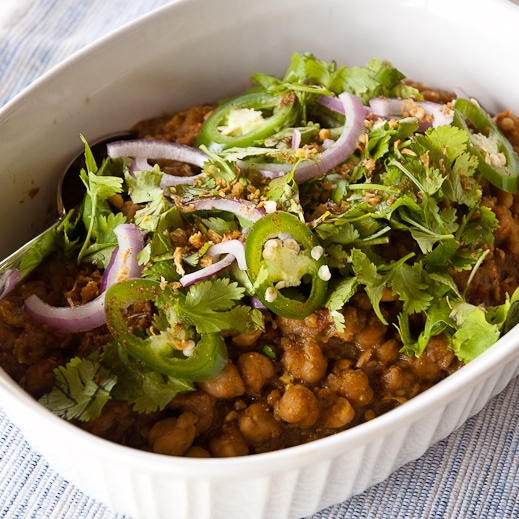 Indian food amazes me.  There are a few cultures in the world that can take bland, cheap ingredients and turn them into rich, hearty dishes bursting with flavor and spice.  I have never had much use for cauliflower, potatoes, or chickpeas.  They have always seemed bland and mushy and I didn't trust any cuisine that presented them front and center and expected me to be satisfied.  Until I learned to love Indian food.  The chickpeas here are almost irrelevant.  The texture is nice but you could serve almost anything with this spice combination and you would find me sucking down spoonful after spoonful (and sweating from the heat).  The chickpeas are important because they are healthy and inexpensive.  The chickpeas also mean you can keep all of the ingredients for this dish in the pantry, to whip up at a moments notice.  So, thank you chickpeas, I will try to be more respectful from now on.
Chana Masala, Chanay, Spicy Stewed Chickpeas
serves 6, prep 10 min, cook 60 min, adapted from
for the love of yum
2 tbsp oil
1 onion, chopped (reserve some for serving)
1 clove garlic, minced
1 can diced tomatoes (or diced tomatoes and chilies), drained
1 tsp cumin
1 tsp coriander
1/4 tsp turmeric
1/2 tsp cayenne
1/2 tsp garam masala
salt
2 cans chickpeas (or 3 cups soaked and cooked)
water
jalapenos or serranos, thinly sliced
fresh cilantro, minced
Heat oil in a medium pot.  Add onion and saute until soft, add garlic and cook briefly.
Add tomatoes and spices and cook until spices are fragrant.
Add chickpeas and about 2 cups of water.
Simmer chickpeas, adding more water as needed, until soft and gravy is uniform, about an hour, start checking texture after 45 min.
Serve chickpeas topped with onions, peppers, and cilantro with bread or rice.