October 1st, 2010 by katie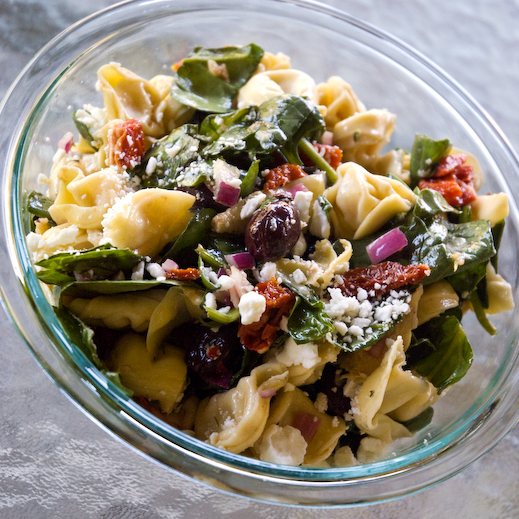 This pasta salad is so good!  Full of delicious Mediterranean flavors, it makes a great side for a party or brown-bagged for lunch.  As written it is a great vegetarian dish but you can also use chicken or prosciutto tortellini.  Feel free to serve right away, but I really prefer to make this the night before (or even a couple of nights before).  It gives the spinach time to wilt a bit and allows the dressing to really marinate the other ingredients.  It serves a crowd but lasts for awhile in the fridge-perfect for mixing up on Sunday and bringing to work for lunches all week. 
This salad is not your typical mayo-laden party fare.  It is lighter and fresher yet still hearty and full of flavor.  The dressing soaks into the pasta and marinates the vegetables and the result is a lightly dressed, bright combination. 
Spinach, Artichoke, and Tortellini Pasta Salad
makes 12 cups, prep 30 min, cook 10 min, adapted from
Rachel Ray, 30 Minute Meals
1 (20 oz) package fresh cheese tortellini
2 tbsp oil
salt
8 oz fresh baby spinach
1/4 red onion, minced
2 tbsp jarred roasted red pepper, minced
1 (14 oz) can baby (small) artichoke hearts, quartered
1/4-1/2 cup pitted kalamata olives, chopped or whole
2 cloves garlic, minced
2 tbsp red wine vinegar
zest of 1 lemon
1 tbsp lemon juice
1/4 cup olive oil
1 tbsp fresh thyme leaves, minced
black pepper to taste
1/2 cup oil-packed sun dried tomatoes, julienned (look for the ones you can buy in bulk from the olive bar)
1/4 cup feta cheese, crumbled
Boil a large pot of water.  Add oil and salt water.  Add tortellini and boil 4-5 minutes or until tender but still firm.
Drain pasta and spread out on a rimmed cookie sheet to cool.  Refrigerate if desired.
In a large bowl, add chopped spinach, onion, red pepper, artichoke hearts and olives.  Toss.
On a cutting board, sprinkle minced garlic with coarse salt. Mash garlic with the flat of your knife, scraping back and forth until garlic becomes a paste.
Scrape up the garlic paste with your knife and add it to a small bowl or jar.
Add red wine vinegar, lemon zest, lemon juice, olive oil, thyme, and black pepper. Whisk or shake to combine.
Pour dressing over spinach.  Toss well.  Add cooled pasta, tomatoes, and feta.
Toss again and refrigerate until ready to serve.