October 13th, 2010 by katie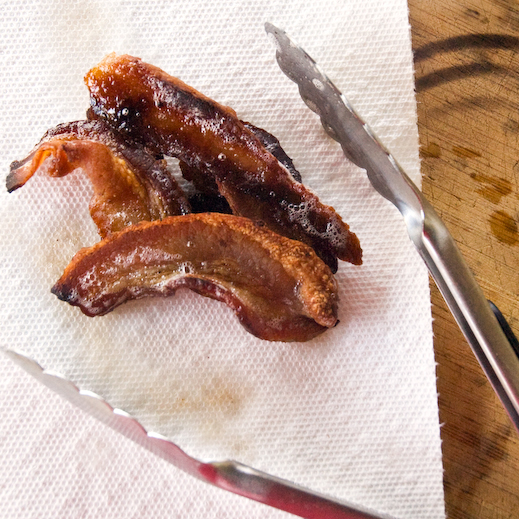 The local grocery chain in my neighborhood sells jalapeno bacon, a delicious, salty product containing high-fructose corn syrup and cured with nitrates.  It is delicious but, as I am wont to do, I wanted to make my own.  My first idea was to start with packaged bacon and brine it in a jalapeno mixture but I realized that the packaged bacon is already so full of salt and sugar that it would be difficult to add much additional flavor.
I began to wonder if I could just buy uncured bacon and cure it myself.  The more I read the more I came to realize that making bacon was not only not that hard but that it was down right easy.  A nebulous recipe began to take form in my head and I took the plunge and ordered a pork belly from our butcher.  After weeks of wondering and imagining it was almost anti-climactic how easy the curing process was.  In about 10 minutes I had combined all of my ingredients in the food processor and then dumped it all in a Ziplock bag with the pork belly.  Done.  It sat for a week in the fridge, I rinsed it, I roasted it, then I sliced it and fried it and ate it and moaned little bacon pleasure moans.
This bacon is BACON.  It is meaty and chewy with sweet and hot undertones.  It makes the packaged bacon taste like salt and water.  The pork belly from my local grocery store's butcher was about $3.49 a pound which isn't too bad for a pound of bacon.  If you have a cheaper pork belly source then it becomes an even better deal. 
Home-Cured Jalapeño Bacon
makes 2 1/2 to 3lbs, prep 10 min, cure 7 days, roast 2+ hours
2.5-3lb skin-on pork belly
2.5 tbsp salt
1.5 tbsp sugar
1/4 cup maple syrup or dark brown sugar
3 jalapenos
2 cloves garlic
1/4 red onion
1/4 cup cilantro
3 fresh bay leaves
Trim pork belly to fit into a large zip-top bag.
Add remaining ingredients to the bowl of a food processor.  Process until smooth.
Pour cure into zip top bag with the pork belly.  Seal and refrigerate, turning daily, for seven days.
On the seventh day, remove the pork belly from the fridge and rinse well.
Pat dry with paper towels.  Pre-heat oven to 200°F.  Place pork belly fat side up on a rack on  baking sheet (line with foil for easy clean-up).
Roast pork belly 2 or more hours until a thermometer reads 150°F in the center.  Alternately, you can smoke or grill to this same internal temp.
Remove pork from the oven and slice off the skin while still hot.  Seal pork in plastic and refrigerate up to 10 days or freeze.
To serve, slice thinly and pan-fry or chop and add to beans or stews.  Freeze for about 30 minutes or until firm and slice with a sharp chef's knife.