September 27th, 2010 by katie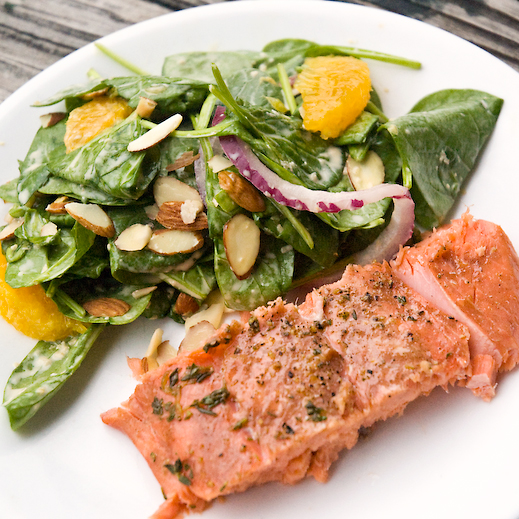 We love this recipe.  We've been making this for years now and it is still wonderful every time.  It is a smoked salmon but it is a hot, moist salmon not the kind of smoked salmon you buy at the store.  It is the best salmon you've ever had, believe me.  I have a difficult time with salmon-it can be a little too strong for me-but this dish has so many flavors and they all play upon each other perfectly.  It is excellent without an overwhelmingly fishy taste and is great flaked into a salad or served as a fillet.
Hot Smoked Salmon
serves 4, prep 10 min, cook 30 min, brine 2 hours, adapted from
Cooking Light, June, 2004
3 1/2 cups  water
1/2 cup kosher salt
1/4 cup sugar
2 oz fresh dill
2 tbsp low-sodium soy sauce
1 cup ice cubes
1 (1 1/2 lb) thick salmon fillet
4 cups hickory wood chips
oil
cracked black pepper
Combine water, salt, sugar, dill, and soy sauce in a large bowl, stirring until salt and sugar dissolve. Pour salt mixture into a large zip-top plastic bag. Add ice and salmon and seal.
Refrigerate 2 hours, turning bag occasionally.  Meanwhile, soak the wood chips in water for 1 hour. Drain well.
Prepare the grill for indirect grilling, heating one side to medium and leaving one side with no heat.  Place wood chips on hot coals.
Pat salmon dry with paper towels. Oil the skin side of the salmon fillet.  Crack fresh black pepper over the top.  Place salmon, skin side down over the unheated side.
Smoke salmon at 180-200°F for about 20-25 minutes or until 140°F on an instant-read thermometer.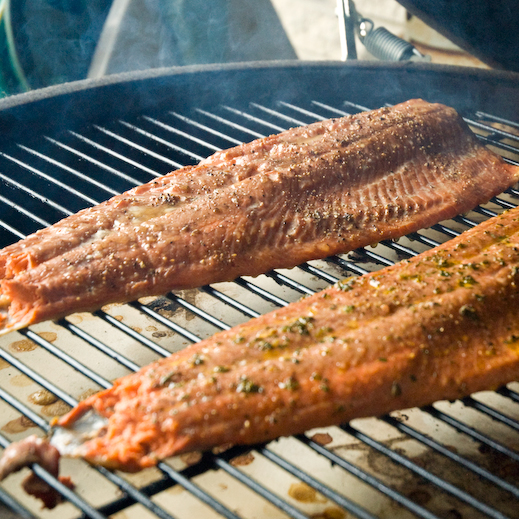 Posted in Easy, Main Dish, Uncategorized