September 20th, 2010 by katie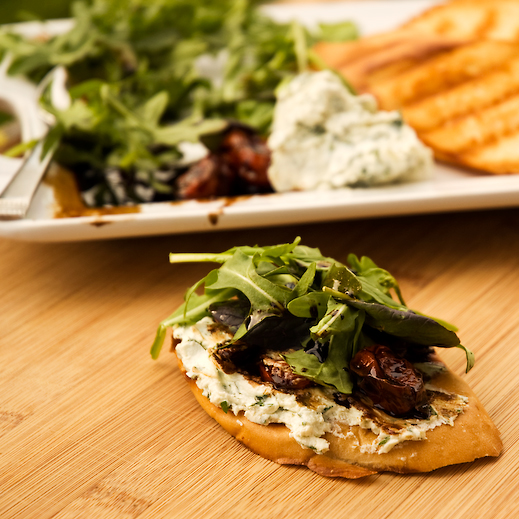 I am frequently contacted by companies who want me to sample their products and feature them here on chaos in the kitchen.  Very very few of them ever make it to the front page.  I absolutely will not ever endorse any product on this website that I do not think is wonderful.  You know my standards, too.  I don't like processed food.  I don't like needlessly expensive food or gadgets.  I like food that tastes good and products that make food prep easier (without taking up space in the junk drawer).
When Fresh Express first contacted me about representing their new Artisan salad blends I was skeptical.  But the more I learned about the line the more excited I got.  It is bagged salad which is never as good as loose leaf from the farmer's market, but a lot of people can't get to a farmer's market every week.  In their new Artisanal Salads line, Fresh Express is growing small batch baby lettuce blends and selling them in bags that use 50% less plastic.  Not only that but the blends are seasonally appropriate-mixing in cilantro in the summer and chervil in the winter.  I have been really impressed by the sample bags Fresh Express sent and if you are interested in trying them for yourself you can pick up a $1 off coupon from their website.
Now onto this amazing dish!  I have been waiting and waiting to share this one with you.  I loved this, mrChaos loved this, you and your friends will love it too.  It is a great appetizer, depending on the size of your toasts, or it makes a very flavorful and satisfying vegetarian main dish. 
Herbed Goat Cheese Toasts with Roasted Balsamic Tomatoes and Arugula Salad
makes about 12 large toasts, prep 15 min, cook 40 min
2 pints grape tomatoes or very small cherry tomatoes
1 head garlic, divided into cloves
olive oil, salt, and pepper
1 cup balsamic vinegar
pinch sugar
1 tbsp butter
8 oz goat cheese, room temperature
1/2 cup chopped fresh herbs, such as: basil, oregano, parsley, thyme
zest of 1/2 lemon
1 large baguette
1/4 cup olive oil
Fresh Express Wild Rocket Salad Zest Salad Blend (or any soft baby greens, like arugula)
Heat oven to 425°F.
Add tomatoes and garlic cloves to a bowl and drizzle with just enough oil to coat.  Sprinkle with salt and fresh cracked pepper and toss together until evenly coated.
Pour contents of bowl out onto a rimmed baking sheet and roast for 30-40 minutes or until tomatoes burst and get dark in spots and look somewhat dried.  Shake the pan every 10 minutes or so to prevent sticking.  When finished, remove from oven and allow to cool.
Meanwhile, in a small pot, bring balsamic vinegar to a boil, then turn heat down to medium low to keep vinegar gently simmering.
Simmer balsamic until reduce to 1/2 cup, measuring as needed, about 30 minutes.
Once reduced add a pinch of sugar and butter, whisk to combine and set aside to cool.
Stir herbs and lemon zest into softened goat cheese until well mixed (you may need a mixer for this). Set aside at room temperature until ready to serve.
Slice baguette on the diagonal into thick slices.  Brush each side on a slice with olive oil.
Grill baguette slices until crisp and browned (or use a panini press).
To serve, squeeze roasted garlic cloves from their paper and toss with roasted tomatoes in the balsamic syrup.
Spread a toast thickly with goat cheese, top with several roasted tomatoes and garlic cloves, spreading them somewhat with a knife.
Top mixture with rocket salad and drizzle with extra balsamic.
This combination is also fantastic tucked inside an omelet and the balsamic reduction makes a wonderful dressing on it's own so store any extra in the fridge.
Fresh Express has provided me with both of their Artisanal Salad blends as well as a collection of baby lettuce seeds in exchange for spreading the word as an Artisan Ambassador. Stay tuned, I will be posting 3-4 recipes a month for the next two months that use these delicious salad blends.

Posted in Main Dish, Salads, Snacks/Appetizers