September 15th, 2010 by katie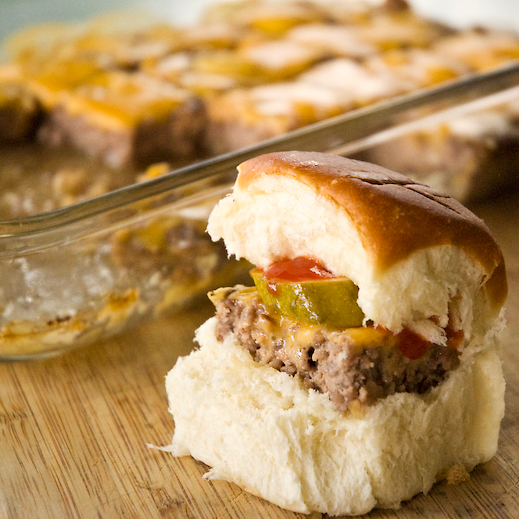 One more freezer recipe for you before I give you the full run down.  These little burgers are great to make up and stash away in the freezer for quick snacks, or on-the-run meals, but they are also great for parties because they make  a ton of food for very little work.
These burgers are little bites of everything you want in a slider.  Greasy, meaty burger bites, onions, cheese, crisp dill slices topped with a dollop of ketchup or mustard and folded into a soft bun. They are pure comfort food!  There are lots of ways to make these burgers but I like Robin Sue's recipe the most because it uses the original White Castle method of making the sliders: cooking the meat over a bed of dehydrated onions. 
Almost White Castle Sliders
makes 24, prep 10 min, cook 20 min, adapted from
Big Red Kitchen
1/2 cup dehydrated onion flakes
2 lbs 80/20 ground chuck beef (you need the fat for re-hydrating the onions)
seasoned salt
6 slices cheese, American or Cheddar
24 small dinner rolls
24 sliced dill pickles
ketchup or mustard as desired
Preheat oven to 400°F.
In a 13×9 inch dish, spread onions evenly.
Press ground beef evenly over onions into a large patty.
Sprinkle meat with seasoned salt or seasoning of your choice.
Bake meat for about 20 minutes.
Layer sliced cheese over meat and return to the oven for about 5 minutes or until cheese is hot and melted.
Slice meat into 24 tiny squares (4 rows by 6 columns, they will look too small but once you get the dinner rolls sliced they are the perfect size).
Fill each dinner roll with a slice of meat and a dill slice, topping with ketchup or mustard as desired.
To freeze wrap each sandwich with plastic wrap and place in a large freezer bag.  Freeze.
When ready to eat, remove a sandwich from the bag and unwrap.  Wrap in a paper towel and heat in the microwave for 30 seconds upside down, then 30 seconds right side up.  Allow to cool slightly before eating.

Posted in Easy, Fast, Main Dish, Snacks/Appetizers