August 8th, 2010 by katie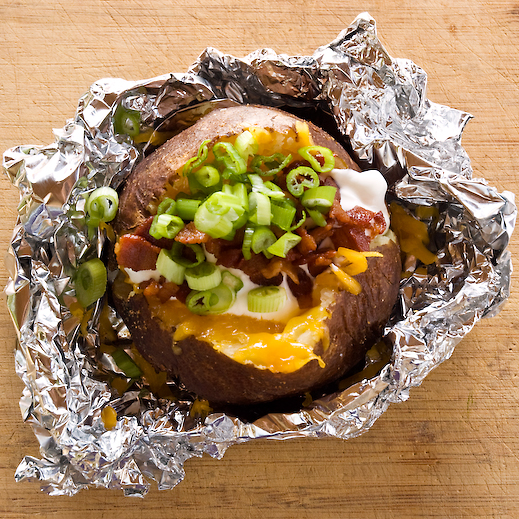 Baked potatoes are a wonderful light meal or filling side dish.  They are portable and reheat well.  There are lots of simple ways to bake a potato, but this method ensures a fluffy, soft center and a crisp, well-seasoned skin.  If you consider baked potatoes simply a vehicle for getting butter, cheese, and bacon into your mouth and then throw them out once you've eaten all the toppings-then try this method.  It'll turn the baked potato into a dish you crave. 
Steakhouse Style Baked Potatoes
prep 5 min, soak 4+ hours, cook 60-90 min
large russet baking potatoes
salt
garlic powder
olive oil
Bring enough water to cover your potatoes to a boil.  Stir in a couple of tablespoons each of salt and garlic powder until mostly dissolved (it won't all dissolve).
Wash and scrub potatoes, poke holes all over with a fork.  Turn off the heat to the boiling water and add the potatoes.
Allow potatoes to soak at least 4 hours to overnight.
Preheat oven to 475°F.
Drain potatoes, rinse and pat dry.
Lay out foil and place each potato on a piece of foil.  Drizzle with just enough oil to coat and rub all over with kosher salt and garlic powder.
Wrap potato in foil and place on the oven rack.  Bake for 60-90 minutes.  Err on the side of baking longer rather than shorter.  A typical baking potato will take about 60 minutes but a very large one may take up to 90 minutes.  You won't over bake them if you leave them in the oven for an extra 15 minutes.
Remove potatoes from the oven and allow to cool slightly.  Once foil is cool enough to handle, unwrap potato.  Use a fork to punch a line of holes down the center of the potato, then gently press the ends together until the seam pops open.
Serve.

Posted in Easy, Main Dish, Sides, Snacks/Appetizers