August 11th, 2010 by katie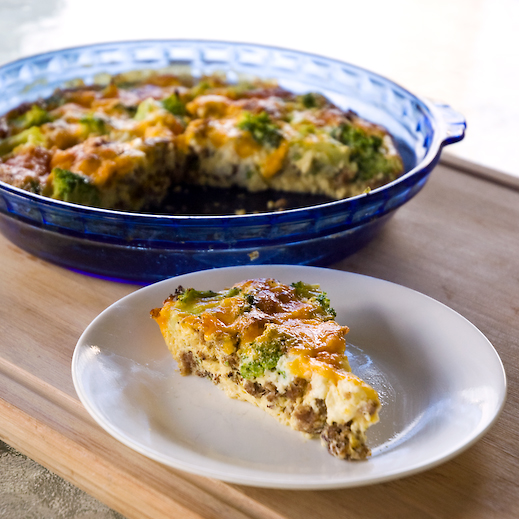 I am always so impressed by the healthy, thoughtful meals Biz from Biggest Diabetic Loser prepares for herself to eat at work every day.  One of her breakfast ideas, a sausage and broccoli "crustless quiche" is such a filling and satisfying way to start the day at the office.  I used frozen broccoli florets (no need to thaw or you could use fresh) and I used left-over pizza sausage which brought this dish together in very little time. 
Sausage and Broccoli Breakfast Frittata
serves 8, prep 10 min, cook 40 min
1/2 lb breakfast sausage, cooked
2 cups broccoli florets, frozen
1/4 cup sharp cheddar cheese, shredded
4 eggs
1/2 cup egg whites
1/2 cup milk
salt and pepper
Grease a 9 inch deep dish pie plate and preheat oven to 400° F.
Layer broccoli, sausage and cheese in pie plate.
In a bowl or large measuring cup, whip together eggs, egg whites, and milk with a fork. Sprinkle with salt and pepper.
Pour egg mixture over ingredients in the pie plate.
Place pie plate in the oven and bake for 30-40 minutes or until completely set and browned on top.
Cool, slice into wedges and serve.