August 18th, 2010 by katie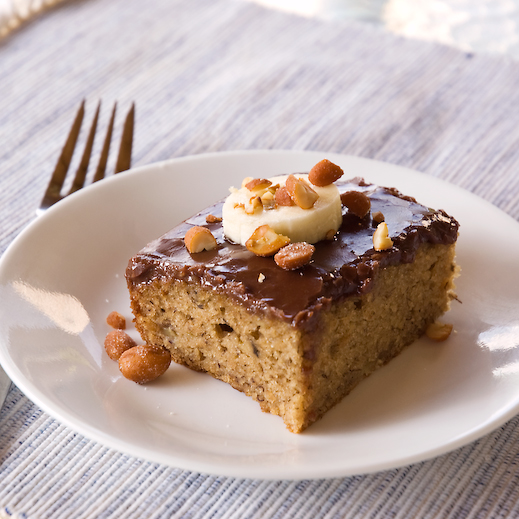 What is more fun than a banana cake with peanut butter and chocolate frosting?  Granted, it isn't a tall, celebratory birthday cake but still, brought to a potluck or party or to the office for an afternoon pick-me up, this cake is fantastic.  The cake itself is delicious and needs no topping but spread with a thin layer of your favorite chocolate frosting it is transformed into a real treat.
The peanut butter in the cake is very subtle, almost too subtle, which is why I added a couple of tablespoons to the ganache as well.  Next time, I will increase the peanut butter to one full cup.  Also, I have made the cake with both oil and butter so use whichever you have on hand.  The butter cake is denser but still moist and tender, while the oil version comes out a little taller and fluffier.  Try to use bananas that are on their very last leg-the kind that split from their peels at the slightest pressure-for the best banana flavor and sweetness.  
Peanut Butter Banana Cake
makes 1 13×9 sheet cake, prep 10 min, bake 30-40 min, adapted from
Buns in my Oven
2 cups flour
1 cup sugar
1 1/2 tsp baking soda
1 tsp cinnamon
1/2 tsp salt
1 cup unsalted butter, melted
2 eggs
1/2 cup buttermilk or milk
4 bananas, mashed
1/2-1 cup peanut butter
1 tsp vanilla
Preheat oven to 350°F or 325°F for a dark pan.  Grease a 13 x 9 inch pan.
Combine all the dry ingredients in a large bowl. Beat in melted butter until mixture resembles coarse sand.
Combine eggs, buttermilk, bananas, peanut butter, and vanilla in a separate bowl.
Beat wet ingredients into dry ingredients until well combined.  Beat for about two minutes or until batter is fluffy and smooth.  At this point you could stir in 1 cup chopped nuts if desired.
Pour into pan and bake 30-40 minutes or until a tester in the center comes out slightly moist.
If you do choose to use oil in place of the butter, follow the same steps except add one cup of oil to the wet ingredients and beat the dry ingredients into the wet ingredients until combined.
On my first cake, I used Karly's mom's Chocolate Frosting which is fudgey and sweet and sets up with a nice crackly top.  On the second cake I tried a Chocolate (and peanut butter!) Sour Cream Ganache.  Both were good, and even better the next day, so it is hard to say which is a better choice.  The ganache is a darker, more intense, less sweet chocolate topping, while the frosting is a chocolaty sugar rush.  A peanut butter frosting would also be fantastic, or simply eat the cake as is and enjoy the intensely banana flavor without distraction.
Chocolate (Peanut Butter) Sour Cream Ganache
makes about 3 cups, prep 5 min, cook 2 min
2 cups chocolate chips (I used extra dark, but any you like will do)
2 tbsp peanut butter (optional)
1 cup sour cream, room temperature
In a medium bowl, add chocolate chips and peanut butter.  Microwave chips in 15 seconds intervals, stirring in between until chips are melted and smooth.
If your sour cream isn't completely room temperature you can also warm it up in the microwave in 15 second intervals, stirring in between, until slightly warm.
Add sour cream to melted chocolate and stir until completely smooth and combined.
The texture will be smooth and spreadable, you can use it immediately or let it chill and set up further if desired.  Frosting will harden completely when chilled.
This frosting is thick, intensely chocolate and just a little tangy from the sour cream.  It would be great spread over a chocolate layer cake as well.