August 30th, 2010 by katie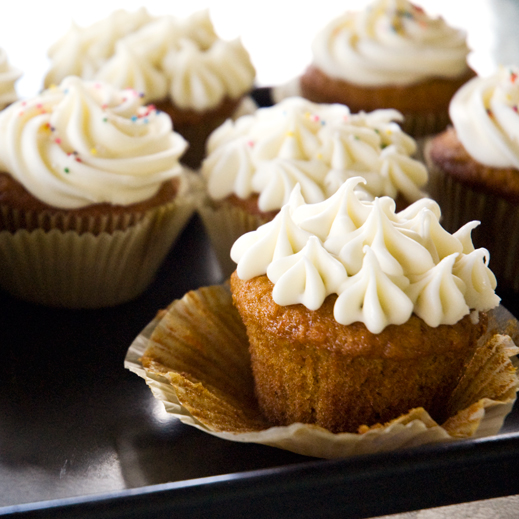 I make carrot cake for my mom.  Not everyone loves cake full of chunky bits of pineapple and pecans and raisins, but over the years it has grown on me.  I keep the chunks as small as possible so they are well dispersed and unoffensive and the result is a sweet, spice cake full of little surprises.  This recipe will also work for a layer cake if you are so inclined, but it is so hearty and rich that we rarely finish a whole birthday cake.  These little cupcakes are the perfect single serving and can be frozen whole, frosted, for pulling out as a snack any time your sweet tooth demands it.
Carrot Cupcakes
makes 24-28 cupcakes, prep 20 min (depends on your carrot grating skillz), cook 20 min, adapted from
Carrot Cake
2 1/2 cups flour
2 cups sugar
2 tsp baking soda
1 tsp cinnamon
1 tsp salt
1 cup butter, melted
2 cups grated carrots, about 6-8
1 (20 oz) can crushed pineapple, drained
4 eggs
1/3 cup toasted, finely chopped pecan pieces
1/4 cup golden raisins, roughly chopped
Heat oven to 350°F.  Line two cupcake sheets with paper liners, using two liners for each cupcake.
Combine the dry ingredients: flour, sugar, baking soda, cinnamon, and salt, in a large mixing bowl.  Remove a small bowlful of the flour mixture and toss the nuts and raisins in it, then set aside.
Beat melted butter into dry ingredients until mixture looks like coarse sand.
Combine carrots, pineapple, and eggs in a medium bowl.
Beat carrot mixture into butter mixture, scraping down bowl as needed to combine.
Beat batter for two minutes then stir in pecan and raisin mixture until well distributed.
Ladle batter into cupcake liners, you will have quite a bit left over if you only make 24 cupcakes.
Bake cupcakes about 20 minutes or until a tester comes out clean. Remove cupcakes to a rack to cool.
Frost generously with cream cheese frosting.
I switched the oil in the old recipe for butter (and less of it) to make these little cakes richer and less greasy.  The result is my new, go-to carrot cake recipe.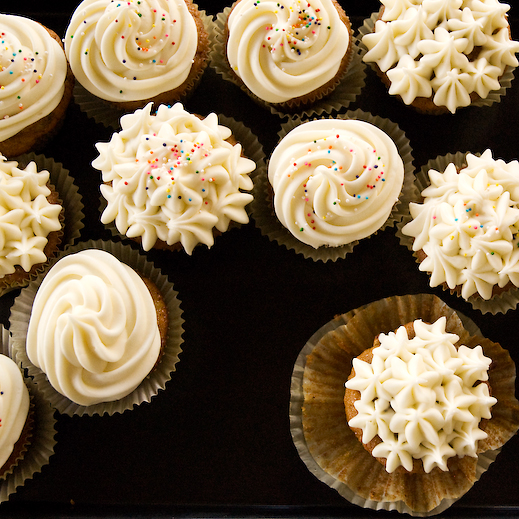 Posted in Desserts