July 14th, 2010 by katie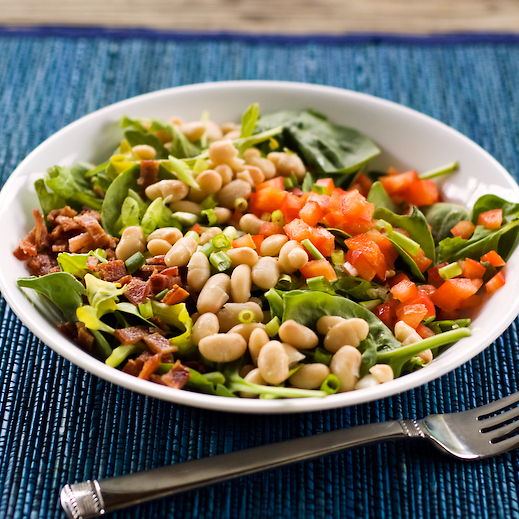 So it's too hot to cook right?  Well lucky for you this salad doesn't require any.  And you are lucky.  Because this salad?  Wow.  This is one of those salads where every ingredients plays a role-from the crisp, sweet red bell pepper, to the smokiness of the bacon, the freshness of the green onion, and the tender beans, all a top a bed of baby spinach and dressed with a sweet, spicy vinaigrette.  There is just something perfect about that maple syrup, bacon, bean combo.  The dressing isn't overwhelmingly sweet, but just sweet enough to temper the beans and the spinach and bring everything together into one healthy bite.
I saw this recipe posted on Lea Ann's blog and I knew I had to make it.  And once I did, I made it again.  And again.  It is really a fantastic recipe: filling and easy.  The prep time on this recipe is almost nothing if you have cooked bacon on-hand.  If you don't then the only real prep work is cooking some bacon which can be done in the microwave in a few minutes.  The recipe suggests warming the beans and dressing in the microwave before serving which is pleasant but unnecessary so you can decide for yourself. 
Spinach, White Bean, and Bacon Salad with Maple Mustard Vinaigrette
serves 4, prep 10 min, cook 2 min, adapted from Cooking Light, May 2003
8 slices bacon, cooked and diced
1 red bell pepper, finely diced
6 green onions, finely diced
1 (15.5 oz) can great northern beans, drained, rinsed, and warmed briefly in microwave (if desired)
6 oz baby spinach or mixed salad greens with spinach
1/4 cup maple syrup
3 tbsp cider vinegar
1 tbsp olive oil
1 tbsp Dijon mustard
salt and pepper, to taste
Combine bacon, red bell pepper, green onion, beans and spinach.
In a small bowl or glass measuring cup, combine maple syrup, cider vinegar, olive oil, mustard, and salt and pepper.  Warm in the microwave before serving, if desired.
Toss salad with dressing and serve (or serve separately if saving leftovers-it makes a great lunch for the office).