July 20th, 2010 by katie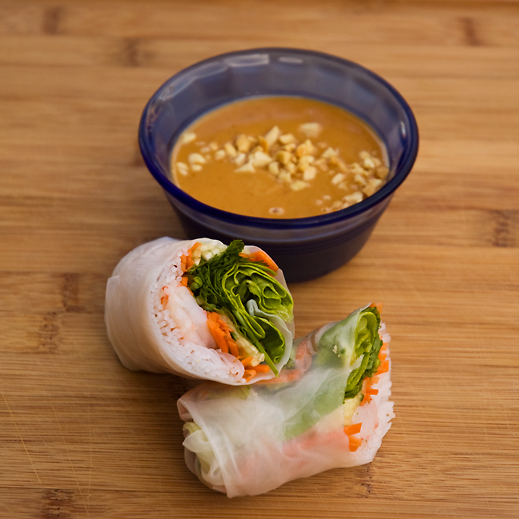 Summer rolls are a perfect summer food.  They require very little cooking and are great room temperature or chilled.  Full of fresh summery herbs and dipped in a pungent peanut sauce they are a flavor packed yet light meal.  Much like a hand-held salad, they are no more difficult to make than a sandwich wrap.  You can fill them with anything you like from left over chicken, pork, or shrimp or even make them vegetarian with all veggies and noodles. 
Once again, I've got my julienne peeler
hard at work.
Summer Rolls
serves 4 (makes 8 rolls), prep 30 min
1/2 lb small shrimp, peeled, cooked, tails removed
2 cups rice stick vermicelli noodles
rice paper wrappers (spring roll skins)
16 large leaves Thai basil (or regular if that's all that's available)
16 small leaves mint
1 small bunch cilantro
2 carrots, julienned
1 large cucumber, julienned
several torn lettuce leaves, Boston or butter lettuce
Cook shrimp in boiling water if necessary, I bought cooked cocktail shrimp to speed up the process.
Cook noodles in boiling water per package instructions, about 3 minutes, then rinse under cool water.
Add warm water to a large dish and place one rice paper wrap in the water to soften, about 30 seconds to 1 minute.
On a dry surface, place soft wrapper.  Layer with a small amount of noodles, about 4 small shrimp, 2 large basil leaves, 2 small min leaves, several pinches of fresh cilantro, julienned carrots, julienned cucumbers, and a torn lettuce leaf (use only the soft part of the leaf, tear and discard the tough stem piece).
Fold the right and left sides of the wrapper over the filling in the middle, fold up the bottom of the wrapper over the middle and roll the roll up until the rice paper meets at the top and seals.
Set roll aside in a dry place and continue until filling runs out.  Wrappers may stick to each other and tear if you place them too close together at first.
Paired with a salty, tangy peanut sauce these summer rolls mimic the flavors in my favorite Vietnamese Bun dishes.  They are also great dipped into a spicy remoulade or Nuoc Cham.
Peanut Dipping Sauce
makes 1 cup, prep 5 min
Combine all ingredients in a small bowl or measuring cup, stir to combine.  If peanut butter is too stiff, warm briefly in the microwave.
Adjust sugar and water to taste, if you use pre-sweetened peanut butter you may need less sugar.

Posted in Easy, Main Dish, Salads, Snacks/Appetizers