June 23rd, 2010 by katie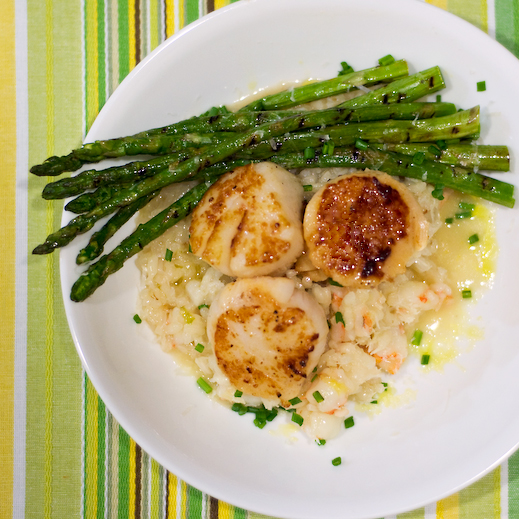 This was one of the best shrimp risottos we've had.  The addition of clam juice to the typical risotto broth was surprisingly delicious.  We learned an important lesson about buying clam juice and that is: if you can find and afford fancy clam juice, it is worth it.  Expensive clam juice smells like a sweet ocean breeze while its cheaper counterpart smells a lot like a fish market.  However, if you can't find good clam juice, don't let it stop you from trying this recipe-we made it with one bottle good stuff and two bottles cheap stuff and it was still delicious.
Don't let this dish fool you.  It feels and tastes rich and luxurious, but it is really a typical, easy risotto.  Plus, with only six shrimp and a splash of wine, it certainly isn't the worst dish for your waistline. 
Truffled Shrimp Risotto
serves 4 as a side or 2 as a main course, prep 20 min, cook 20 min, adapted from
Bon Appétit, September, 2003
3 (8 oz) bottles clam juice
1 cup chicken stock
3 tbsp olive oil
6 large raw shrimp, peeled, deveined, diced
1/4 cup onion, minced
1 clove garlic, minced
1 cup arborio rice
1/4 cup dry white wine
2 tbsp butter, optional
Truffle oil, to taste
chopped fresh chives
fresh grated Parmesan cheese, to taste
Bring clam juice and chicken stock to a simmer in a medium saucepan.  Reduce heat to low; cover to keep warm.
Heat olive oil in heavy medium saucepan over medium-high heat.  Add shrimp and saute 1 minute.
Using slotted spoon, transfer shrimp to a bowl.  Add onion and garlic to pan and saute until translucent.  Add rice, cook and stir about 1 minute.
Add wine to rice and simmer until absorbed.  Add 1 cup clam juice mixture to rice and simmer until liquid is absorbed, stirring often.
Continue adding liquid 1 cup at a time and stirring often, allowing each addition to be absorbed before adding next, until rice is tender but still firm to bite, about 20 minutes.
Stir in butter and shrimp. Season with salt and pepper.
Divide risotto among 2 plates, drizzle lightly with truffle oil, sprinkle with chives and cheese, and serve.