June 2nd, 2010 by katie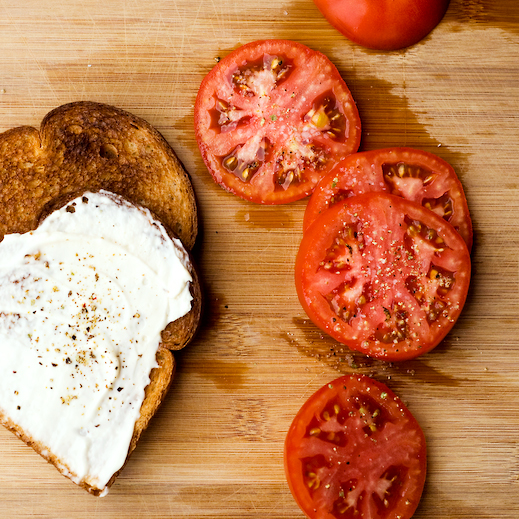 Everyone should plant a tomato plant.  Most plants just absorb-water, sunlight, affection, good intentions-without giving much back.  They might flower briefly or continue to look healthy but there is very little immediate satisfaction gained by caring for them.  Which is probably why I have never been a very good gardener.  Growing tomato plants on the other hand is just about the most satisfying experience one can have.  Water them and give them plenty of sun and every day they reward you with new flowers, tiny baby tomatoes, slightly bigger than they were yesterday adolescent tomatoes, and finally tomatoes so deep red and juicy they threaten to split their skins.
This tomato was my very first home-grown-in-my-back-yard-by-my-own-hand-and-with-my-own-sweat tomato and it was glorious.  I am seriously concerned about ever being able to eat one of those tomato factory "on the vine" tomatoes ever again.  It looks like a tomato, round and red, but it is so much more tomato!  The flavor is deeper, the flesh sweeter, and the seeds and juices aren't jellied and watery.  The only disappointment is that I only planted two instead of a dozen.
I enjoyed my first home-grown tomato as an old-fashioned southern tomato sandwich and it was so much better than I imagined. 
Southern Tomato Sandwich
2 slices of bread, toasted
mayo
thick tomato slices
salt and pepper
Spread mayo on toasted bread.
Cover with tomato slices.
Sprinkle with salt and pepper.
Close sandwich and enjoy!
Have plenty of napkins for catching tomato juice as it runs down your chin!