June 25th, 2010 by katie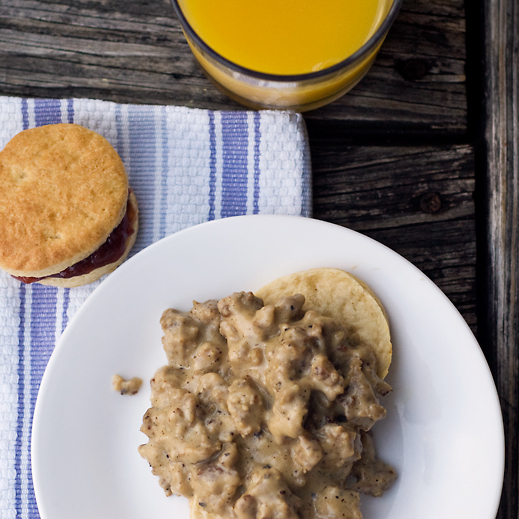 Either you love biscuits and gravy-it is pure childhood comfort food for you-or it doesn't makes a lick of sense.  I mean it's biscuits.  And they are covered in gravy.  Yet there is something hearty and soul-satisfying about a big warm plateful of crisp fluffy biscuits smothered in creamy sausage gravy.  It is a filling, special occasion breakfast-which is kind of ironic considering it probably had it's beginnings as a staple of poverty-perfect for serving a crowd after a late night or before a busy day. 

Sausage Gravy
serves 4, prep 5 min, cook 20 min
1 pound breakfast sausage
2 tbsp fat drippings, butter, or oil
1/4 cup flour
2 cups milk
salt and pepper
In a cast iron or other heavy skillet, cook and brown sausage over medium-high heat.  Break sausage into small crumbles with a wooden spoon.
Once sausage is brown, turn off heat and use a slotted spoon to remove the sausage to a paper towel lined plate.  Drain and measure fat if desired.
Add 2 tbsp fat back to the pan, use sausage drippings if desired and add additional fat as needed to make 2 tbsp.
Heat pan over medium-low and sprinkle fat with flour.  Cook flour mixture, whisking often, until golden about five minutes.
Add milk to flour mixture and whisk until smooth.  Heat pan to medium-high and whisk while gravy comes to a simmer and thickens.
Add sausage and season to taste with salt and fresh ground pepper.