May 31st, 2010 by katie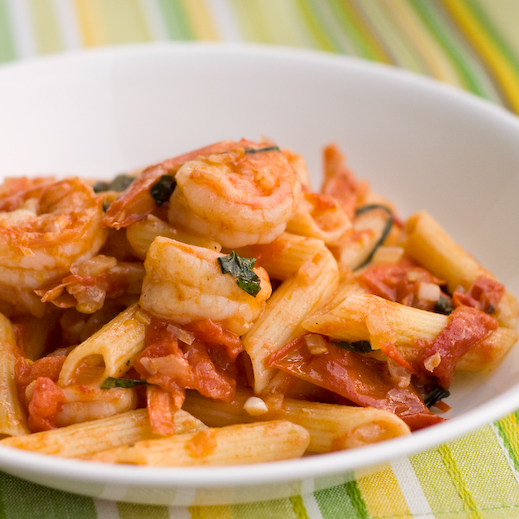 Shrimp Pomodoro is one of my favorite pasta dishes.  Fresh tomatoes, basil, garlic, and white wine all come together to create a delicious yet light sauce.  Paired with hearty penne and plump shrimp, it is a great summer dinner-perfect for ripe tomatoes and smaller appetites.
Shrimp Pomodoro
serves 6, prep 15 min, cook 30 min, adapted from
kalofagas.ca
1 lb shrimp, thawed, peeled, and deveined
1/3 cup olive oil
salt and pepper, to taste
1 onion, diced
6 cloves garlic, minced
1/2 cup dry white wine
6 plum or Roma tomatoes, roughly chopped
1/4 tsp crushed red pepper flakes
1/2 cup basil, julienned
1 lb penne pasta
Heat oil in a skillet over medium-high heat.
Add shrimp and cook briefly until pink and opaque.
Season shrimp with salt and pepper and remove to a plate with a slotted spoon.
Add onion and garlic to hot oil and cook until onion is soft.
Add wine and cook 5 minutes.
Add chopped tomatoes and cook 20 minutes or until tomatoes have released their liquid and softened.
Meanwhile, boil a large pot of water and salt if desired.
Add pasta and cook per package instructions.
When pasta and sauce are ready, add red pepper flakes, basil, shrimp and pasta to skillet with sauce.  Stir to coat noodles evenly. Serve.
If your sauce gets too dry, add a few splashes of olive oil or white wine.