May 27th, 2010 by katie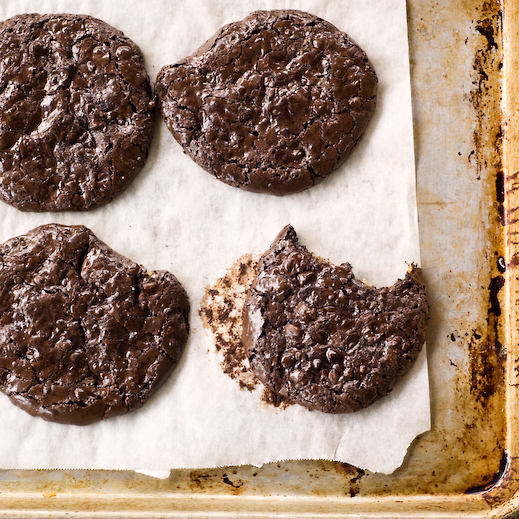 I am calling these Payard cookies because that's where the recipe originated but they go by many names.  Basically they are flour-less chocolate cookies made with egg whites, sugar, and cocoa.  That's it.  So is a fat-free, gluten free cookie any good?  Oh yes.  These cookies are deep, dark, fudgy and chewy.  With a handful of walnuts sprinkled about and a crisp, crackled brownie top-they are a chocolate lover's dream.
The original recipe calls for almost 3 cups of walnuts but it isn't necessary to use that many.  I use only a cup and they get just enough nuttiness without freaking the kids out.  I have not attempted the recipe without nuts but as a no-nuts-in-my-brownies kind of girl I will tell you that this amount is perfect and pleasant. 
Flour-less Chocolate Walnut Payard Cookies
makes 1 dozen, prep 10 min, cook 15 min, adapted from
François Payard
1 cup walnuts pieces, toasted
3 cups powdered sugar
1/2 cup dutch process or dark cocoa powder
1/4 tsp salt
4 egg whites
1 tbsp vanilla
Arrange oven racks to fit two baking sheets.  Preheat oven to 350°F.  Line two baking sheets with parchment paper (even if you have a silicone baking mat, I would still go with the paper here because you will have to lift it off the sheets later).
Toast walnuts in a dry pan over medium heat until fragrant and golden.
Remove nuts to a cutting board or food processor and chop until small.
In a medium bowl, whisk together powdered sugar, cocoa, and salt until well combined.
Whisk in egg whites and vanilla until batter is uniform.
Using 1/4 cup measure, quickly spoon the batter into six evenly spaced mounds on one baking sheet, giving cookies plenty of room to spread.  Batter will be runny, move fast!  Place the first cookie sheet into the oven, then spoon out the second batch and quickly place them in the oven.
Bake the cookies for about 14 minutes.  After 7 minutes you may want to rotate your pans top to bottom and front to back.
Once cookies are set and glossy with a few cracks, remove from the oven and slide parchment paper onto racks to cool.
Do not try to remove cookies from parchment until cool or they will stick and break.