May 3rd, 2010 by katie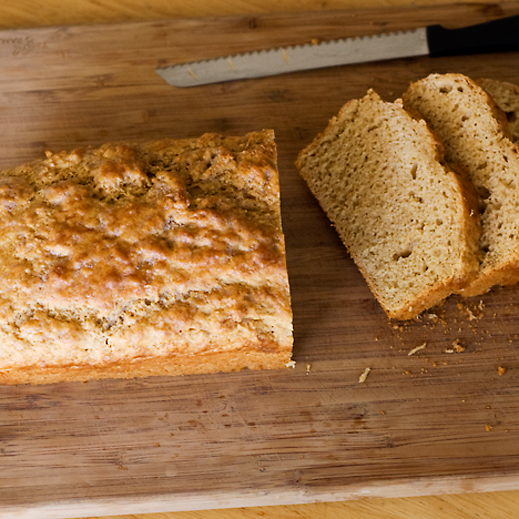 I have been a bit under the weather, which means soup for dinner and a shorter post on the website.  I'll show you the soup next but what goes better with soup than a nice hunk of bread?  This bread is soft on the inside and crusty and sweet on the outside.  If you buy self-rising flour, it only calls for three ingredients and is so easy and quick to put together that you can even make it even when you're not feeling so hot.  The beer will impart some flavor to the batter so be sure to use one that compliments what you're serving it with.  Corona and St. Arnold's Brown both work well.
Beer Bread
make 1 loaf, prep 5 min, cook 50 min
3 cups self rising flour
1/2 cup sugar
12 oz beer
Preheat oven to 350°F.  Grease a loaf pan.
Combine all three ingredients in a large bowl, mixing well.
Pour batter into greased loaf pan and bake for about 50 minutes or until loaf is golden brown.
Rub hot loaf all over with butter to soften the crust and cool on a rack.
If you don't buy self-rising flour you can use the following as a substitute:
3 scant cups all-purpose flour
4 1/2 tsp baking powder
1 tsp salt