April 24th, 2010 by katie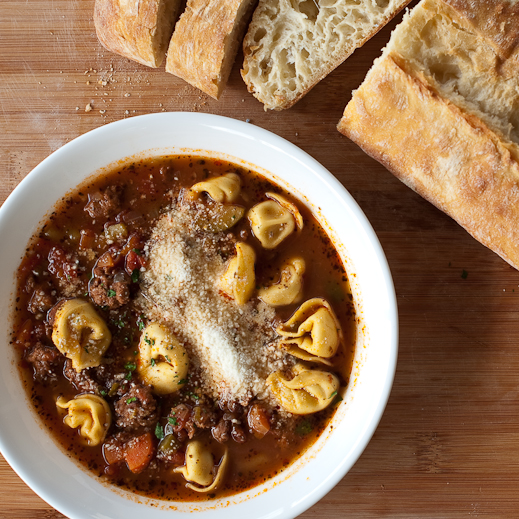 Is it already too hot for soup?  I hope not because I really need to share this one with you.  I think this just might be my new favorite soup.  Full of chunky sausage, tender vegetables, and plump, cheesy tortellini this soup is a filling, yet light meal.  The best part is that it reheats surprisingly well.  I expected the tortellini to turn to mush but it actually held up.  Even so, if you plan to make the soup in advance or for the freezer, leave the tortellini out and add them just before serving.
Sausage and Tortellini Soup
serves 6, prep 20 min, cook 1 hour,
Bon Appetit, October 1993
1 pound hot or sweet Italian sausage, crumbled
1 large or 2 medium carrots, thinly sliced
1  green bell pepper, diced
1 cup chopped onion
2 large garlic cloves, sliced
1/2 cup dry red wine
5 cups chicken stock, homemade or beef broth
28 oz canned tomatoes
8 oz tomato sauce
1 large or 2 medium zucchini, sliced
2 tablespoons dried basil
2 tablespoons dried oregano
8 to 10 ounces purchased fresh cheese tortellini
Parmesan cheese, grated
In a large stock pot or dutch oven, crumble and cook sausage over medium high heat until browned.
Remove browned sausage to a paper towel, reserving about 1 tbsp fat in the pot.
Saute carrots, pepper, and onion until soft.  Add garlic and cook another minute.
Add red wine to deglaze the pan, scraping up the browned bits.
Add chicken stock, tomatoes and sauce, chopped zucchini and spices.
Simmer soup, covered at least one hour or until vegetables are soft and flavors have melded.
Taste for salt and pepper.
About ten minutes before time to serve, raise heat and add tortellini.
Cook, simmering, until pasta is tender.
Serve, sprinkled with Parmesan cheese.