April 5th, 2010 by katie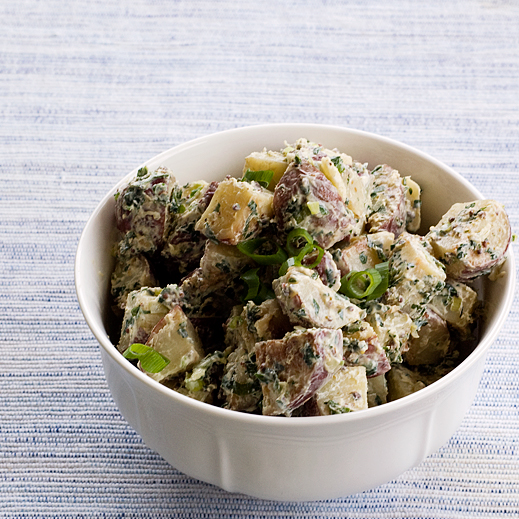 Oh, potato salad.  Tangy, smooth with bits of crunch, drenched in creamy mayo.  Why do you have to be so bad for me?
I have been craving potato salad something fierce lately, but I have also been doing very well in my commitment to eating healthier and lighter.  So what's a girl to do?  Make this healthy potato salad.  Potatoes and garlic, roasted with grainy mustard and coriander seeds then stirred into creamy, tangy yogurt with fresh bits of green and onion, this potato salad has all of the flavor elements of a great deli potato salad yet with much fewer calories and far less fat.
Roasted Garlic Potato Salad
makes 4 cups, prep 20 min, cook 30 min, needs chill time, adapted from
Cooking Light, September 1999
3 lbs medium or small red potatoes, cut into small pieces
1  tablespoon oil
1  tablespoon stone-ground mustard
2  teaspoons coriander seeds, crushed
6  garlic cloves, halved
1/2  cup chopped fresh parsley
1/2  cup plain low-fat Greek yogurt
1/3  cup thinly sliced green onions
3/4  teaspoon  salt
1/4  teaspoon  black pepper
Preheat oven to 400°F. Cover a baking sheet with foil.
Combine the first 5 ingredients in a large bowl, tossing mixture to coat.
Spread potato mixture over prepared baking sheet.
Bake 30 minutes or until tender, stirring mixture occasionally. Cool to room temperature.
Combine parsley, yogurt, green onions, salt, and black pepper in a large bowl. Add the cooled potato mixture, and toss gently.
Serve salad at room temperature or chilled. Garnish with green onion, if desired.
It is very important to cool your potatoes before stirring them into the yogurt mixture.  Otherwise, the hot potatoes will soak up all of your yogurt and your potato salad will not be very creamy.

Posted in Health/Nutrition, Salads, Sides