April 26th, 2010 by katie
When you use the Internet as much as I do to search for recipes, keeping track of all of the great food blogs out there can be daunting.  There are so many wonderful recipes posted daily that I quickly lose track of everything on my "To Make" list.  Luckily, I have created a virtual recipe box using Google Reader and can now quickly organize and access all my favorite recipes by category.
Let me show you how.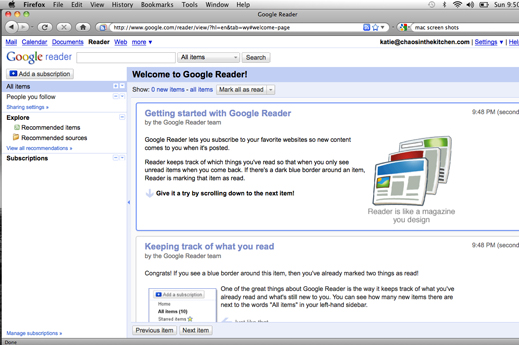 First you have to create an account with Google Reader, which you can do using your existing email address (it does NOT have to be a gmail account).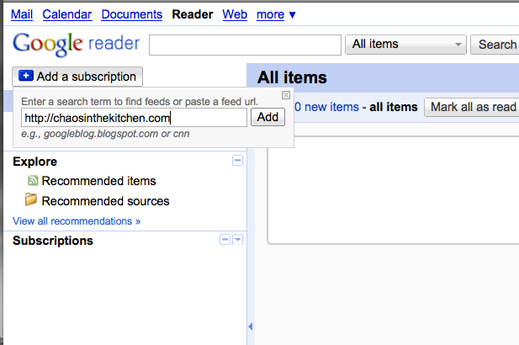 Once you have created your account, you need to start adding your favorite food blogs using the "Add a subscription" button.  This will subscribe you to the web site's RSS feed.  You can also subscribe directly from most websites simply by looking for "RSS feed," "Subscribe to Posts," etc.  For example, on the right hand column of chaosinthekitchen is a link that says "Subscribe to updates via RSS."  If you click that link it will ask you which feed reader you wish to subscribe with.  Clicking "Add to Google" will automatically add the feed to your Google reader.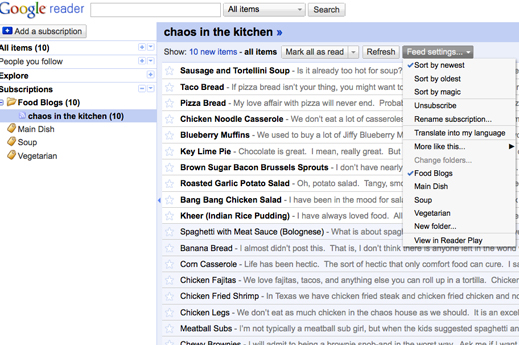 So now that you have added your favorite blogs to your reader you need to create a way to organize your feeds.  First, you need to create folders for the blogs themselves, like "Food Blogs," "Good Reads," "Photography," etc…  Second, you need to create the category folders where you want to be able to store individual recipes-like "Main Dish," "Soup", or "Vegetarian."  Look for the "Feed settings…" drop down menu and choose "New folder…"  Then create as many folders as you like.
You will notice that Google will automatically add your feed to each folder you create, just return to the "Feed settings…" drop down and uncheck the folders you don't want the feed to appear in.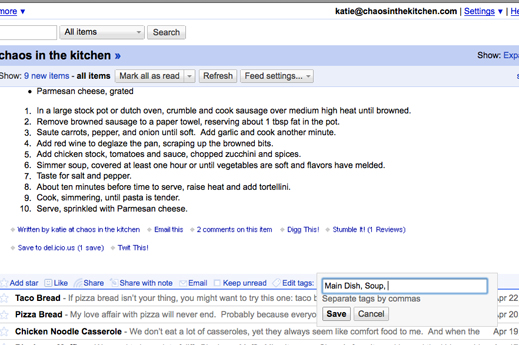 So now you have all the posts from all of your favorite blogs in one place.  Your feeds will automatically appear in the expanded format, to switch to an easier-to-view "list view," look at the top right corner of the feed window and choose "Show: List."  Now you will be able to click on each post and open it individually.  If it is a post you'd like to save for the future, simply scroll to the bottom of the post, and look in the right corner.  Choose the link to "Edit tags:" and type the names of each category folder you want the dish to appear in.  Be sure to tag the recipe with all of the categories it fits into so that when you are looking for a "Main Dish" you will see it, as well as if you are looking for a "Chicken" dish.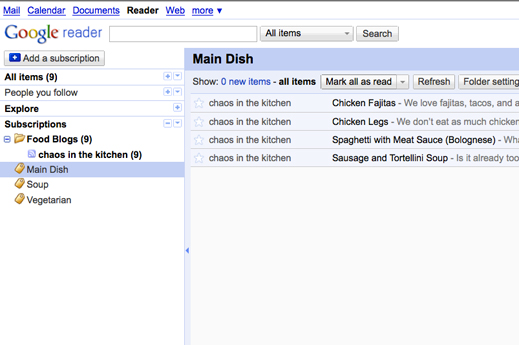 Once you have labeled your favorite recipes you can choose the category of the recipe you want to find and see all the recipes with that tag.  I have both general tags (Main Dish, Chicken, Breakfast) and specific tags (Cookies, Grill Recipes, Casseroles) so that if I have no idea what to make for dinner I can scroll through a general category.  Whereas if I know I have chicken that needs to be used up, or if I feel like having a salad, I can look through a specific folder.
Congratulations!  You have now successfully created an online recipe box that you can access from anywhere!

Posted in Me