April 17th, 2010 by katie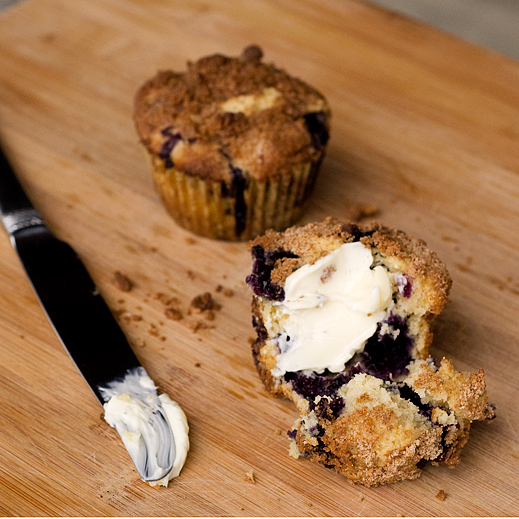 We used to buy a lot of Jiffy Blueberry Muffin Mix.  It was mrChaos's favorite and he and the kids would often make them on the weekends when I was at work.  At some point during my box-mixed rebellion I stopped buying the familiar blue and white box, rendering them muffin-less.  Perhaps that's why we demolished a dozen muffins in 24 hours.
Soft, moist, full of fresh blueberries, and with a crunchy brown sugar streusel on top, these muffins were exactly what I was looking for.  I was a little worried, after the extreme loyalty to the Jiffy box, that the kids wouldn't eat muffins made with fresh fruit, but they gobbled these up in no time.
Lisa at The Cutting Edge of Ordinary calls these "To Die for Blueberry Muffins" and she's right, these are some of the best blueberry muffins I have ever had.  If you haven't visited her blog, you should.  It is full of great recipes, in fact I made her Chicken Noodle Casserole the same day!
Blueberry Muffins with Brown Sugar Streusel
make 12 standard muffins, prep 20 min, cook 20 min, adapted from
The Cutting Edge of Ordinary
1 1/2 cups flour
3/4 cup sugar
1/2 tsp salt
2 tsp baking powder
1/3 cup oil
1 egg
1 tsp vanilla
approximately 1/2 cup milk (you need enough to make 1 cup liquid ingredients)
1 generous cup blueberries, fresh or frozen
1/2 cup brown sugar
1/3 cup flour
1 1/2 tsp cinnamon
1/4 cup butter, cold, cut into small pieces
Preheat oven to 400°F.  Grease or line a muffin tin.
In a bowl, combine 1 1/2 cup flour, 3/4 cup sugar, salt, and baking powder.  Stir together until combined.
In a glass measuring cup, measure 1/3 cup oil.  Then add the egg and vanilla and enough milk to fill the cup to the 1 cup mark. Stir until well combined.
Pour wet ingredients into dry ingredients and gently fold them together until combined, its ok for the batter to be lumpy.
When it looks like you only need to stir a few more times, add the blueberries and gently fold them in until evenly distributed.
Scoop batter evenly into muffin cups, about to the top of each.
In a small bowl combine brown sugar, 1/3 cup flour, and cinnamon. Stir with a fork.
Use two forks or your fingers to work in butter until mixture has pea sized chunks.
Generously top each muffin with mixture.
Bake muffins approximately 20 minutes or until tester comes out clean from the center.
Feel free to use frozen blueberries when fresh blueberries are too expensive.  Just be sure not to let them thaw before baking or they will turn your muffins blue (but they will still be delicious).

Posted in Breakfast, Snacks/Appetizers