April 30th, 2010 by katie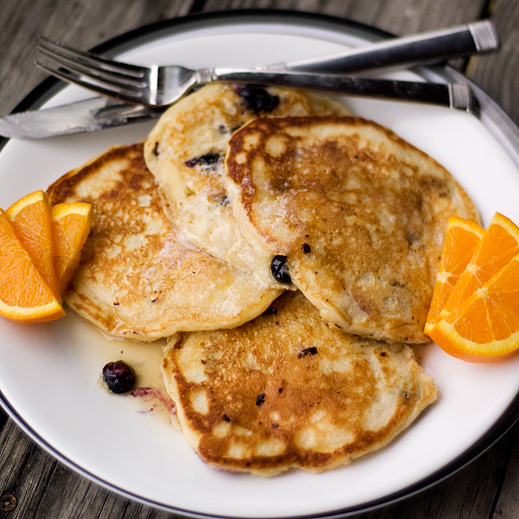 These pancakes are fantastic! Crisp on the outside and fluffy and soft on the inside.  They are super easy to whip up and are a great canvas for fresh blueberries, chocolate chips, or even just butter and maple syrup.  Thanks to Krysta for the recipe!  Although I can't wait to try it with homemade buttermilk, they are delicious with store-bought buttermilk as well (and pretty great with plain old milk and lemon juice, too).
Updated to add: If you are able to make these with homemade buttermilk (see link above) I really cannot recommend it highly enough.  They really become something extra special-crisp on the outside with a light, melt-in-your-mouth texture on the inside.
Best Buttermilk Pancakes
makes 4 cups batter, prep 10 min, cook varies-about 40 min, adapted from
evil chef mom
2 cups flour
2 tbsp sugar
2 tsp baking powder
1/2 tsp baking soda
1/4 tsp salt
2 1/2 cups buttermilk
2 eggs
2 tbsp oil
melted butter or oil for frying
1 cup blueberries, chocolate chips, or other mix-in
Combine dry ingredients in a bowl: flour, sugar, baking powder, baking soda, and salt.
In a 4 cup measuring glass, combine liquid ingredients: buttermilk, eggs, and oil.  Stir to combine.
Stir wet ingredients into dry, mixing well.
Heat a large, heavy skillet or griddle over medium heat.  It is always better to go too low than too high with pancakes.
Once hot, brush the surface of the griddle with melted butter or oil. Pour 1/4 cup of pancake batter over greased spot.
Add a few blueberries or chocolate chips to the wet pancake and cook until the edges are set and bubbles form on the surface of the pancake.
Flip pancake and cook the other side until golden brown.
You can keep stacked pancakes warm in a low oven until ready to serve.