February 3rd, 2010 by katie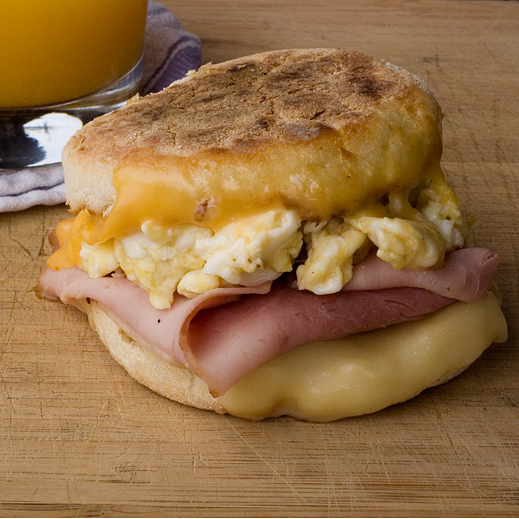 I used to subscribe to the "eat lots of small meals" way of healthy eating.  What I found was that I was always eating and always hungry.  I never had that full-and-satisfied feeling which only made me want to eat more.  My new strategy is to eat a nice, substantial meal three times a day and one light snack as needed to get from one meal to the next.  I am glad to report that, for me, it is working much better.  I get to sit down to a nice hearty meal which then holds me over until my next meal.  This is one of my favorite breakfasts, a warm, gooey ham and Swiss on one side and a toasty egg and cheese sandwich on the other side.
So a Moons over my Hammy sandwich is basically a grilled cheese stuffed with scrambled eggs and ham.  It is generally made with sourdough toast but I substituted a sourdough English muffin because it is half the calories and just as hearty.  If you do make it with toast, proceed as you would a regular grilled cheese or even grill under a panini press.  Also you can make this with one or two eggs or one egg and one egg white like I did, or Egg Beaters too if that's your thing.
Lighter Moons over my Hammy
makes 1 sandwich, prep 5 min, cook 5 min
1 sourdough English muffin, split and toasted
1-2 eggs, scrambled
1 tsp mayo
1 tsp mustard
2 oz. thinly sliced deli ham
1 slice American cheese (about 1/2 oz.)
1 slice Swiss cheese (about 1/2 oz.)
Scramble your eggs.  Once they reach the just set, soft scrambled stage stop breaking them apart with your spatula so they will be easier to keep together on your sandwich.
Spread mayo and mustard lightly on opposite halves of your English muffin.
Starting with the mayo side, layer American cheese, then scrambled eggs, then ham, and top with the Swiss cheese.  Cover with the mustard spread English muffin half.
Place sandwich carefully in a warm pan (I used the same one I scrambled my eggs in). Cover with a pot lid of plate until cheese is melty.
Flip sandwich and warm other side under pot lid until sandwich is warm all the way through.
I don't have a toaster oven because I haven't found one that works and isn't prohibitively expensive or heats to 500°F on the outside, but if you have a toaster oven this sandwich would also work very well under the broiler instead of pan-warming.
Every now and then Foodbuzz send me coupons from their sponsors.  While I am under no obligation to endorse their sponsors (very important-that) I had been making myself this lovely sandwich for breakfast and considering a post on it for a week or two before they surprised me with a coupon for Eggland's Best Eggs.  I buy our grocers generic cage-free eggs for baking but for fried and scrambled eggs, I think the Eggland's Best Eggs do have superior flavor and nice big, deep yellow yolks.  So there you go.