February 10th, 2010 by katie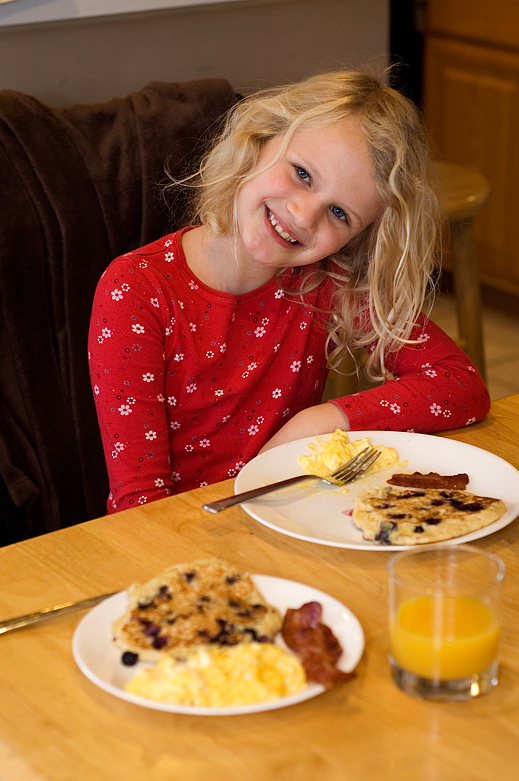 Weekends are wonderful: sleeping in, knowing that a whole day of relaxation stretches ahead of you, lazy breakfasts, and quality time spent with the ones you see too little of during fast-paced weekdays.  This weekend, embrace your lazy day and start it with a fortifying breakfast.
Blueberry Pancakes
makes 12 pancakes, prep 10 min, cook 30 min, adapted from
Alton Brown
4 tbsp butter
2 cups buttermilk (or milk plus 2 tbsp lemon juice)
2 eggs, separated
2 cups pancake mix
2 cups blueberries (or chocolate chips!)
In a glass measuring cup, melt butter in the microwave (about 30 seconds) and allow to cool to room temperature.  Heat a griddle over medium heat.
Measure buttermilk and pour into a large bowl.
Holding one hand over the bowl, crack an egg into your hand and allow the white to run between your fingers and into the bowl.  Drop the egg yolk into the butter and whisk quickly to combine.  Repeat with the second egg.
Whisk buttermilk and egg whites until combined.  Add melted butter and egg yolks and stir to combine.
In another bowl, place pancake mix.  Add liquid to flour and fold together gently.
Stop stirring when batter is combined but lumpy.
Grease the hot griddle lightly with butter or oil.  Wipe away excess with a paper towel.
Using a 1/4 cup measure pour batter onto greased griddle.  Pour as many or as few as you can manage.
Sprinkle the uncooked pancakes with blueberries (or chocolate chips!) and cook until the top bubbles and the bottom is golden brown.
Flip pancakes and cook until bottom is set.
I made Alton's Instant Pancake mix and though I like the concept, the recipe doesn't make an even six cups so you are throwing away about 1/4 cup of pancake mix.  The recipe is below and does make excellent pancakes if you want to try it, however you could follow this same process with any pancake recipe or mix.
Instant Pancakes
makes 6+ cups, adapted from
Alton Brown
6 cups flour
1/2 tbsp baking soda
1 tbsp baking powder
1 tbsp salt
1 tbsp sugar
Combine all ingredients in a large, seal-able container or plastic bag.

Posted in Breakfast