February 24th, 2010 by katie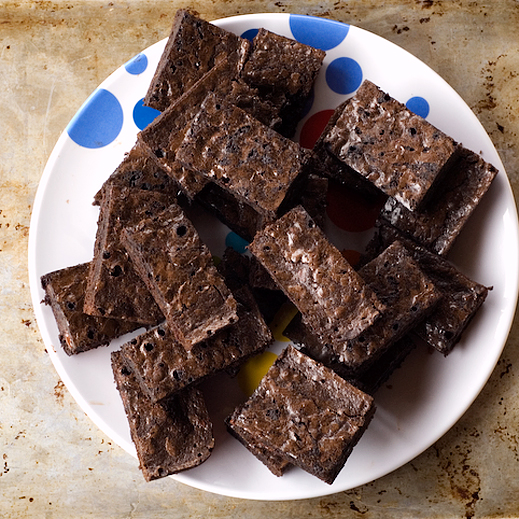 I will admit to being a brownie snob-and in the worst way.  Ask me if I want a brownie and of course I do, but let it slip that they're homemade and, well, I just might hesitate.  It's not that you didn't buy the most expensive chocolate for them.  It's not that you used two sticks of butter and six eggs.  I know they will be crazy rich and chocolaty.  It's the texture I just can't handle.  Yes, I am one of those: typical boxed mixed brownie texture snob.
I have been experimenting with brownie recipes for awhile, trying to find a homemade version with a suitably firm chew.  Most have been only okay, there was even a recipe we threw out (gasp!), I really liked these, but overall this recipe seemed to provide the best flavor and texture.  Somewhere between chewy and fudgy, they are rich and chocolaty as well.
One of the things I have noticed if you like chewy brownies is that the longer you let them sit, the better the texture.  Unfortunately I don't even mean hours, but days.  Of course I can know that and still be digging freshly baked brownies out of the pan within minutes of pulling the pan from the oven.  Seriously, if you can wait til the next day or even a couple of days the texture gets better and better. Good luck with that.
Brownies
makes 13 x 9, prep 10 min, cook 30 minutes, adapted from
Cook's Illustrated
1/3 cup Dutch-processed cocoa powder or dark cocoa powder
1 tsp instant espresso (optional)
5 oz boiling water
2 oz unsweetened chocolate (like Ghirardelli, two squares)
4 tbsp unsalted butter, melted or chopped
5 oz vegetable oil
2 eggs
2 egg yolks
2 tsp vanilla
2 1/2 cups sugar
1 3/4 cups bread flour or all purpose flour
1/2 tsp salt
3/4 cup bittersweet chocolate chips (like Hershey's special dark)
Preheat oven to 350°.  Grease a 13 x 9 pan.
Measure water into a glass measure cup and microwave for three minutes.  Meanwhile, in a medium bowl, whisk together cocoa powder and espresso.
Once water boils, pour over cocoa powder and whisk until smooth.
Add unsweetened chocolate, butter, oil, eggs, egg yolks, vanilla, and sugar, one at a time, whisking until each is smoothly incorporated.
Switch to a rubber spatula or wooden spoon and stir in flour and salt until combined.  Stir in bittersweet chocolate chips.
Bake 30-35 minutes or until tester in center comes out clean.  Take care if using glass or dark pans to adjust the cooking time.
Cool brownies in the pan as long as humanly possible.  At my house that's about 10-15 minutes.