January 4th, 2010 by katie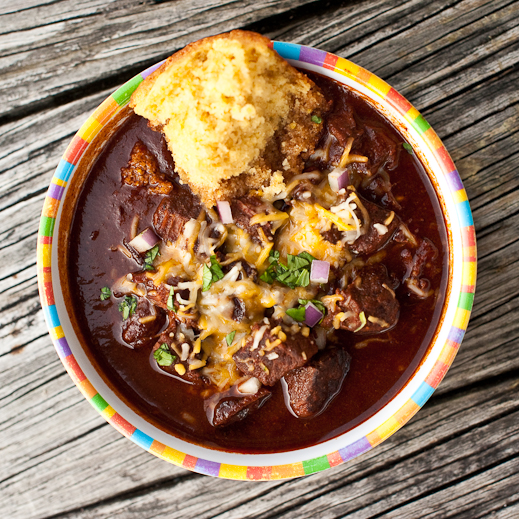 When I get a chili craving it is generally the Yankee concoction of loose ground beef, tomatoes, and-dare I say-beans that I have in mind.  This, however, is not that chili.  This is Texas chili: a thick and spicy slurry of chilies and meat, never to be disgraced by either a bean or vegetable.  This is Grandpa's chili recipe, the one mrChaos grew up eating with Saltines and cornbread.  It's pure, stick-to-your-ribs cowboy food.
Gramps (and Son)'s Chili
serves 8, prep 20 min, cook 4 hours
5 lbs chuck shoulder, trimmed of all fat
peanut oil, lard or bacon fat for browning meat
32 oz beef broth
1 cup chicken stock
1 16 oz can tomato sauce
6 tbsp, heaping, chili powder
3 tbsp, heaping, sweet paprika
1 tbsp, heaping, cayenne
16 oz spring water
1 tbsp onion powder
1 tbsp garlic powder
1 1/2 tbsp cumin, divided
2 tsp oregano, divided
1/2 can tomato paste
2 jalapenos, cut a slit in the flesh but do not chop
3 bay leaves
1 packet Goya Sazon (cilantro and tomato) (found with other Mexican staples or alongside bouillon)
salt and pepper
1 tbsp butter, softened
1 tbsp flour
Trim all fat from the chuck shoulder roast and cube the beef into bite-sized pieces-not too small or they will fall apart during cooking.
Heat oil or fat in a cast iron skillet and brown beef in several batches.  Add to crock pot.
Add the beef broth, chicken stock, tomato sauce, chili powder, paprika, cayenne, water, onion powder, garlic powder, 1 tbsp of the cumin, 1 tsp of the oregano, tomato paste, jalapenos, bay leaves and Goya seasoning packet) to the crock pot.
Cook on high for 4 hours.
Taste, add the remaining 1/2 tbsp cumin and 1 tsp oregano, salt and pepper as desired.
Remove peppers and bay leaves.
If chili needs to be thickened mash 1 tbsp butter with 1 tbsp flour, stir into the chili until combined.
Serve with cheese, sour cream, tortilla chips, crackers or cornbread.
You can make this with sirloin or round steak but you will have to cook it longer to get the meat tender.  This is some pretty spicy stuff so temper both the cayenne and the jalapenos to your tastes.  Also, if your jalapenos get so soft that the seeds begin falling out, you can remove them early.  If you like your chili bitter you can also add a teaspoon of instant coffee granules, but I don't think it needs it.