December 15th, 2009 by katie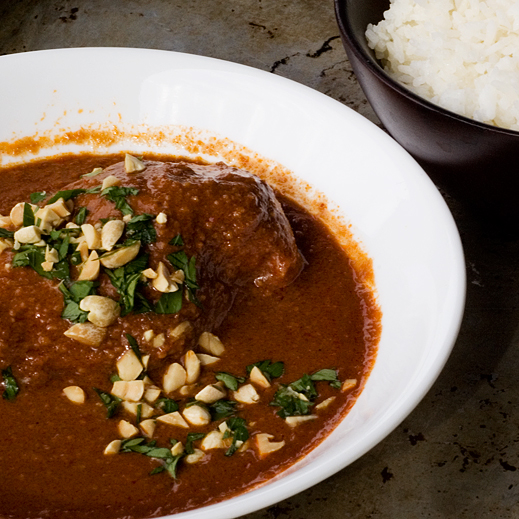 Peanuts and chicken are one of those flavor combinations that sounds crazy-until you try it.  Mole (mo-lay) is a popular Mexican dish that combines nuts and chilies, and often chocolate, into a sauce served over chicken and rice.  It is an intensely flavored, hearty dish that is also a crowd pleaser.  Adults and kids alike seem to recognize and be comforted by the combination of peanuts and chicken.  Be sure to serve with a nice big pile of rice to soak up all that delicious sauce.
Peanut Chicken Mole
serves 6, prep 30 min, cook 1 hour and 15 minute, adapted from
Rick Bayless's Mexican Kitchen
2 dried ancho chilies, stemmed, seeded, torn into pieces
2 tbsp oil
1/2 small white onion
2 garlic cloves
2 medium Roma tomatoes
1 cup dry roasted peanuts (could sub peanut butter, the kind that's just peanuts and salt)
1/2 cup white bread, toasted, torn into pieces
2 chipotle chilies from a can of chipotles in adobo sauce
1/8 tsp allspice
1/2 tsp cinnamon
3 1/2 cups chicken broth
1/2 cup fruity red wine
1 tbsp cider vinegar
2 bay leaves
1 1/2 tsp salt
1 tbsp sugar
2 lbs boneless, skinless chicken breasts
parsley for garnish
Rehydrate ancho chile pieces in water for 30 min.
Meanwhile, heat 1 tbsp oil in a dutch oven over medium.
Saute garlic and onion until well browned. Add to a blender or food processor.
Place tomatoes on a baking sheet and broil until blackened (approximately 5 minutes about 4 inches below the broiler).
Flip tomatoes and roast the other side.  Drain ancho chiles.
Cool tomatoes slightly, peel and add to the blender with the onions.
Add ancho chiles, peanuts, bread, chipotles, allspice, and cinnamon to the blender.  Add 1 1/2 cup of the chicken broth.  Blend until smooth.
Heat the remaining 1 tbsp of oil in the dutch oven over medium high.
Add peanut mixture and stir and cook for 5 minutes.
Add remaining broth, wine, vinegar, and bay leaves.  Partially cover, simmer over medium low approximately 45 minutes, stirring occasionally.
Taste, season with salt and sugar, taste again and salt as needed.
Preheat oven to 350°F.  Cover the bottom of a 13×9 baking dish with sauce.
Place trimmed chicken breasts in baking dish and pour remaining sauce over the top.
Bake 20-30 minutes or until chicken is cooked through. While the chicken is cooking you can start some rice and clean up your huge mess.
Remove breasts to a platter and stir sauce.  Add additional chicken broth to thin sauce if necessary.
Serve over rice, garnished with chopped parsley and chopped peanuts.
This is not the fastest dish to put together, but there is nothing difficult about it.  It is a nice dish to make when you aren't rushed and makes plenty to eat leftover.

Posted in Main Dish