November 7th, 2009 by katie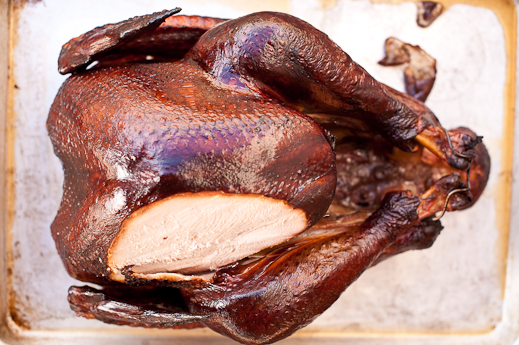 Thanksgiving dinner is always a balancing act between the turkey, the casseroles, the stuffing, and the rolls all vying for a place in the oven.  Why not relieve a bit of the stress and cook your turkey in the smoker?  This smoked turkey is delicious.  The breast meat is flavorful, the dark meat juicy, and it makes a fine turkey sandwich the next day-everything you could ask for in a Thanksgiving bird!
Honey Brined Smoked Turkey
brine 12 hours, smoke approximately 4-5 hours depending on size, adapted from
Alton Brown, 2004
1 gallon hot water
1 lb kosher salt
1 lb honey
2 quarts vegetable broth
1 bag of ice
1 fresh or thawed turkey, up to 20 pounds
oil, for rubbing turkey skin
Twelve hours before you plan to smoke the turkey, heat a gallon of water until boiling.
In a large (54 quart) cooler, combine hot water and salt, stirring until salt is dissolved.
Stir in honey and vegetable broth until combined.
Add the ice, stir, and submerge the turkey breast side up in the brine.
Cover and allow to sit 12 hours.
When ready to cook, prepare smoker by bringing it to 250°F.
Remove turkey from the brine and pat it dry with paper towels.
Rub or brush the turkey all over with oil.
Smoke the turkey for approximately 20 minutes per pound keeping the temperature at 250°.
Remove the meat when the thickest part of the breast is 160°F.
Cover with foil and allow to rest one hour before carving.
Unlike most roasts, I won't recommend saving this carcass for stock unless you have a need for smokey stock.

Posted in Main Dish