November 12th, 2009 by katie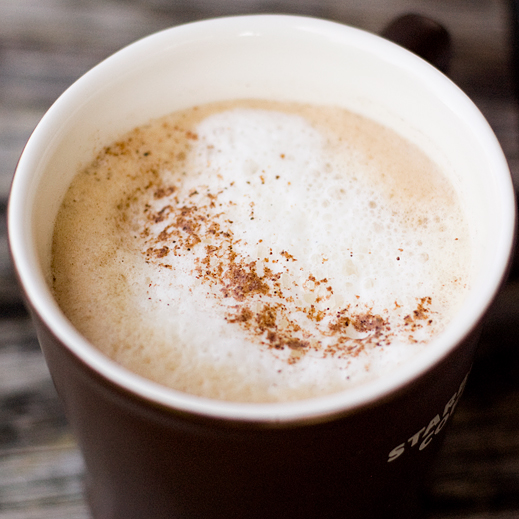 It's that time of year again.  Eggnog is finally gracing the grocery store shelves and Eggnog Lattes are popping up in coffee houses everywhere.  I like an eggnog latte because it has a bit of sweetness and a bit of spice and tastes like Christmas, but since most eggnog lattes are made with actual eggnog rather than a flavored syrup they aren't sickeningly sweet.  Luckily, you can buy plenty of low-fat eggnogs now which makes your eggnog latte no worse for you than your usual latte.
I have an espresso machine which I love dearly (thanks Mom!), but you can make this with strongly brewed coffee if you don't have access to a shot of espresso.  If you need help frothing your drink without a frothing wand, I would invest in one of these hand held frothers.
Just combine your coffee and eggnog mixture, heat, and froth away!  Kids love these things by the way and they make excellent chocolate milk.
Eggnog Latte
makes 1, prep 5 min
1/2 cup milk
1/2 cup eggnog
1.5 oz brewed espresso or strong coffee
nutmeg
Combine cold eggnog and milk in a large mug or frothing cup.
Tilt mug at a 45° angle and move frothing wand slowing up and down and back and forth until milk is thickly foamed.
If frothing in a mug, pour your espresso over the top.  If using a frothing cup, pour espresso into a mug and pour hot eggnog mixture over.  Then spoon the foam on top.
Sprinkle with nutmeg.  Enjoy!
Personally, I like this best with a double shot.  You might like to add a little sugar to your eggnog/milk mixture.  That's the great part about making these at home-experiment and find the combination you love!