October 19th, 2009 by katie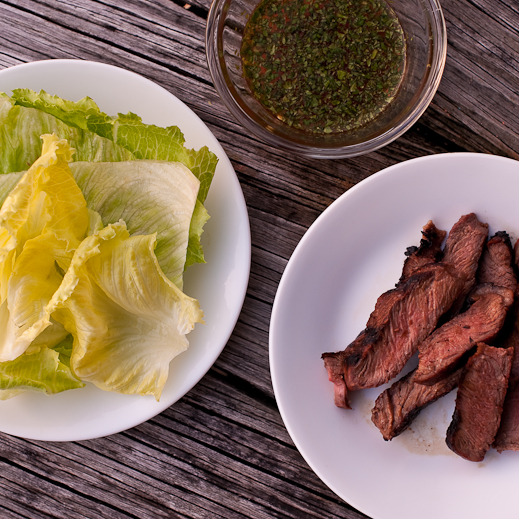 Hopefully you went out and acquired a bottle of black sauce after my post on Salmon with Black Sauce (again, I got it at Kroger so it isn't too hard to find).  You've made the salmon dish and it rocked your world, so now you are wondering what else you can make with this magical stuff.  This delicious, spicy steak is the perfect choice.  The meat is juicy and slightly sweet, the sauce tangy and spicy and bright.
Spicy Asian Steak Lettuce Wraps
serves 4, prep 20 min, cook 10 min, adapted from
Food & Wine, October 2007
6 tbsp peanut oil
3 tbsp kecap manis or kecap manis sedang (black sauce)
2 lbs top sirloin steaks (flank or skirt steak would also be delicious)
salt and pepper
3 tbsp fish sauce
3 tbsp fresh lime juice
1 tsp chili sauce
1 tbsp brown sugar
2 tsp fresh cilantro, minced
small head of lettuce
In a shallow baking dish, whisk together oil and black sauce.
Salt and pepper steaks then place in baking dish, turning to coat in sauce.
Allow steaks to sit at room temperature, turning occasionally.
Combine fish sauce, lime juice, chili sauce, brown sugar and cilantro, set aside.
Wash and separate lettuce leave, arrange on a platter.
Grill steaks until medium rare, three minutes per side over an extremely hot grill.
Allow steaks to rest, then slice thinly against the grain.
Serve atop lettuce leaves, with reserved sauce on the side for dipping.
Wrap meat and a spoonful of sauce in a lettuce leaf, enjoy!
You can also chop the lettuce and serve this as a salad, tossed with the dipping sauce.