October 28th, 2009 by katie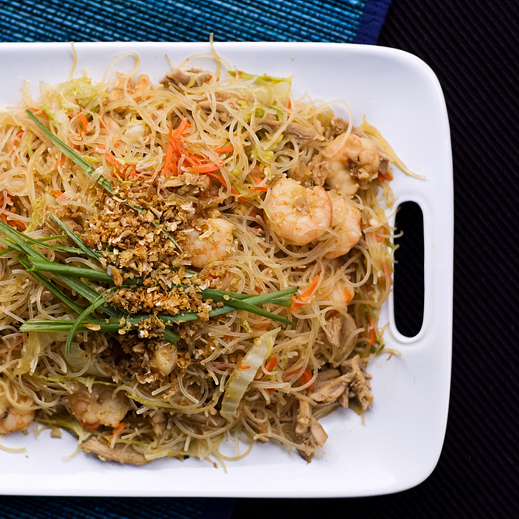 Have you tried Pancit?  It is pure comfort food-chicken, noodles, vegetables-with an Asian spin.  It is a very popular family style dish here.  There are as many recipes for Pancit as there are Filipino families so feel free to adjust the recipe as desired.  You can add pork, green beans, mushrooms, or any other good stir-fry vegetables you like.  Be sure to check for saltiness before adding the soy sauce.  If you do not have the low-sodium soy sauce you will need to use much less.  This is a typical stir fry so be sure to get all of your meats and veggies prepped and ready to go before you start cooking because it goes very quickly.
Pancit
serves 6, prep 30 min, cook 10 min
1 pound chicken pieces
5 cups chicken broth or water
1/2 cup low sodium soy sauce (lite), divided
8 oz. rice stick noodles, available in most grocery stores
1/4 cup oil (peanut or sesame preferred)
1 small onion, diced
4 cloves garlic, minced
1 lb shrimp, peeled and deveined
4 carrots, julienned (about 1 cup)
4 celery stalks, julienned (about 1 cup)
2 cups cabbage, thinly sliced
Simmer chicken pieces in chicken broth or water until fully cooked.
Remove meat, cool and shred with two forks.
Bring chicken broth to a  boil and add 1/4 cup low sodium soy sauce.
Add rice noodles and boil for three minutes.
Heat oil in a large pan over high.
Add onion and garlic, stir fry until translucent.
Add chicken meat, shrimp, and 2 tbsp low-sodium soy sauce. Stir fry several minutes.
Turn off heat to rice noodles.  Reserve 1 cup of broth/soy sauce mixture from noodles.
Add vegetables and small amount of broth to pan.  Stir fry an additional minute.
Using tongs, add noodles to the pan with meat and vegetables
Turn heat to low and toss meat, vegetables and noodles.
Taste.  Add soy sauce if needs salt, if too dry, add reserved broth.
You can use kitchen shears to cut noodles into shorter lengths if desired.
Garnish with green onions and fried onions or garlic if desired.
It is really easy to julienne your vegetables with this peeler, and it makes for a really nice presentation, but feel free to chop them any way you like.

Posted in Main Dish