October 27th, 2009 by katie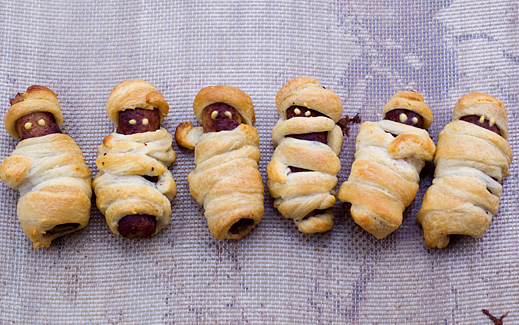 Halloween is almost here!  Surprise your loved ones with this spooky fun breakfast.  These sausage kolaches can be made anytime of year but for Halloween they make the cutest little undead breakfast treats ever.  Make as many or as few as you want, just match the number of sausages with the number of crescents you have.
Mummy Sausage Breakfast Kolaches
makes a dozen, prep 15 min (after cooking sausage), cook 10 min
12 breakfast sausage links, cooked, any flavor (maple, spicy, etc..)
12 crescent dough pieces, canned, refrigerated
mustard for mummy eyes
Cook your sausages.  Preheat the oven to 375°F.
Using kitchen shears or a sharp knife, cut your crescent dough into long strips.
Wrap each sausage in strips of dough leaving a space towards one end for the mummy's face.  You may have leftover crescent dough.
Bake kolaches for about 10 minutes or until golden brown.
When ready to serve, use a toothpick or knife tip dipped in mustard to make two eyes.
You can make ketchup eyes too but they don't stand out as well.  You can also do this with party sausages or hot dogs for finger food.  If you don't have time to make these in the morning before running out to school or work, you can make them at night, refrigerate, and reheat them in the oven for a few minutes.  The microwave works too, for an even faster option, but they will be softer.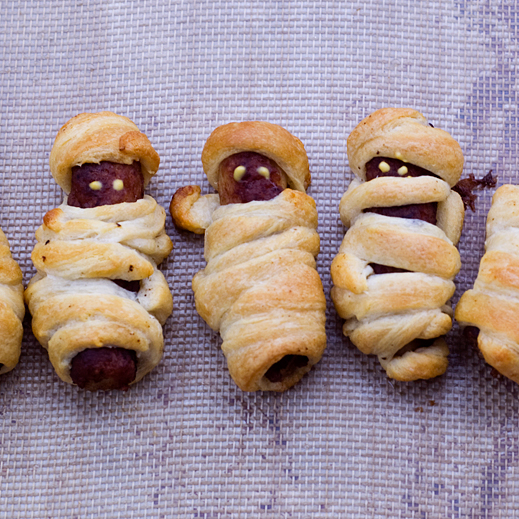 Posted in Breakfast, Cooking with Kids, Easy, Fast, Snacks/Appetizers