August 19th, 2009 by katie
Hey folks!  Here is another fabulous guest post to keep you entertained while I am off sunburningbathing.  A super big THANKS to Krysta for bailing me out even with a million things on her own plate.  You can (and should) follow her at evil chef mom.  Can't wait to get home and bake up some of these cookies…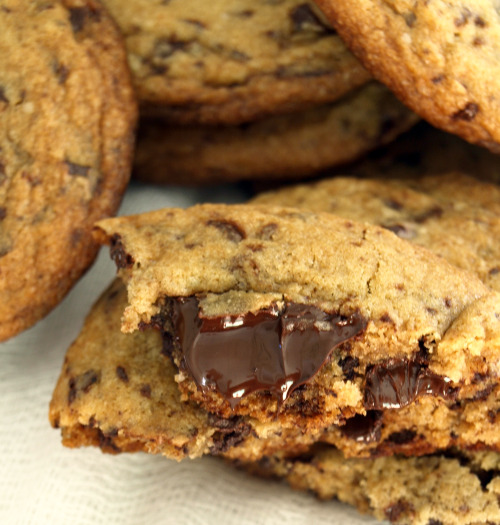 So, ummm, I guess I should introduce myself. Hi, my name's Krysta and I'm from evil chef mom.
"Hi, Krysta!"
Hey everyone! So I'm guest posting for Katie while she's off in Hawaii, doing who knows what… all I know is I wish I was there with her. So like any good guest I brought a present. Cookies, to be more precise Thomas Keller's chocolate chip cookies from his ad hoc at home cookbook. I'm sure regular readers of Chaos in the Kitchen will say "*cough* Whoever you are miss so and so she already posted a chocolate chip cookie recipe!"and I'll say "I know. My daughter Katie already baked them and they kicked ass!" Sorry about the language especially on someone else's blog but damn those we re some good cookies.
I need to pause right here and say something. I am a cookie addict. It started as a child and has become a full blown addiction as an adult. The problem is that I have enablers in the form of two daughters, Nancy and Katie who love to bake….all. the. time.
The difference between the recipe Katie posted and the Thomas Keller one is vanilla. Katie's recipe has vanilla and Keller's do not and it's strange how different the two are because of one little ingredient. These are very in your face chocolate chip cookies. The chocolate flavor shines so make sure to get good chocolate because there is nothing to mask the flavor of these cookies.
ad hoc at home chocolate chip cookies: adapted from food gal
yield: 30 3 inch cookies
2 1/3 cup + 1 tablespoon all purpose flour
3/4 teaspoon baking soda
3/4 teaspoon kosher salt
5 oz. 55% chocolate chopped
5oz 70-72% chocolate, chopped
8 oz. (2 sticks) COLD unsalted butter, cut into small pieces
1 cup dark brown sugar
3/4 cup sugar
2 large eggs
Preheat oven to 350.
Sift flour and baking soda into a medium bowl, stir in salt. Put cho colate into a fine mesh strainer and shake to remove chocolate dust. In a stand mixer with paddle attachment, beat ½ of the butter on medium speed until fairly smooth. Add both sugars and remaining butter and beat for a few minutes until mixture is light and creamy. Scrape down sides of the bowl. Add in one egg at a time until fully incorporated. Add dry ingredients and mix in on low speed until combined. Mix in chocolate.
Remove bowl and fold dough with spatula to be sure that chocolate is evenly incorporated throughout.
Using about 2 level tablespoons per cookie, shape dough into balls. About 8 per cookie sheet. Bake for approxamently 12 minutes until tops are not shiny. If you want, halfway through the cooking time you can rotate the cookie sheets. Remove from oven and let cool on wire racks.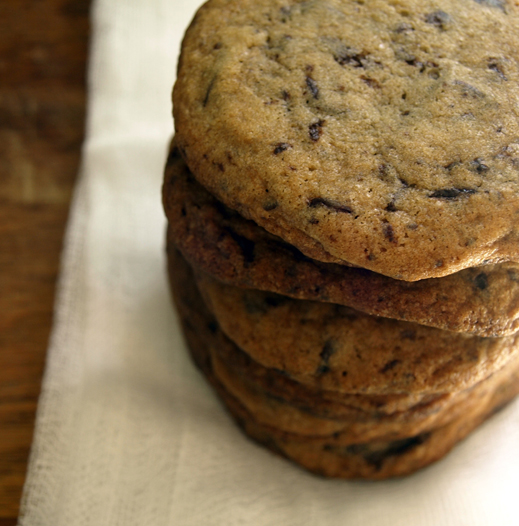 Posted in Desserts