July 10th, 2009 by katie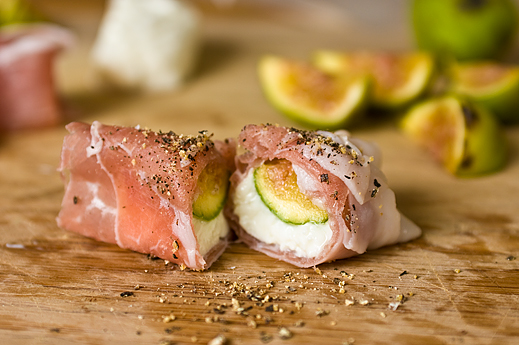 Looking for a great summer appetizer or snack?  Or is it just too hot to think about cooking or even eating much?  Fresh figs and Burrata cheese wrapped in prosciutto is a delicious summery snack, starter or even a light meal with some bread and a good wine.  If you can't find Burrata any fresh mozzarella will work or any other soft, mild cheese you like.  Fresh figs come in green or purple and are delicious: chewy, juicy, seedy (if that's a word).  If you have never tried one, just pop the whole thing in your mouth and chew.  Here, paired with a soft creamy cheese, wrapped in paper thin slices of salty prosciutto and spiked with some fresh cracked black pepper their sweetness is tempered just enough to really bring out all the flavors.
I cut the Burrata and wrapped it up with the figs while it was still cold so keep it from smashing rather than slicing.  Fresh figs don't stay firm long, so buy them the day you are planning to make these (or maybe the day before).

Posted in Easy, Snacks/Appetizers