May 15th, 2009 by katie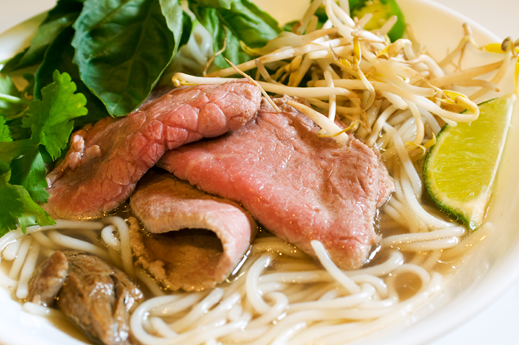 Pho (Fuh not Foe) is a fantastic Vietnamese noodle dish that involves pouring boiling beef stock over thin slices of raw beef and noodles then adding handfuls of fresh herbs, bean sprouts, lime juice, and peppers.  The boiling broth gently cooks the thin slices of meat to a lovely, tender medium.  It is such a homey, comforting dish that it sometimes seems out of place to enjoy it in a restaurant setting.  I wanted to be able to enjoy Pho at home but it's complex taste was intimidating.  Thanks to Jaden at Steamy Kitchen, I now know how easy it can be!  Her recipe for making Pho in the crockpot was just the incentive I needed to make it myself.
It really was super easy and smelled delicious all day.  If you can make a pot roast, you can make Pho.  I toasted the spices, onion, and ginger on the stovetop, boiled the bones vigorously for ten minutes, then added it all to the crock pot with plenty of water to cover.  It cooked on low for 8 hours, then I made some rice noodles, strained the broth, washed the herbs, and we ate!  Delicious, flavorful Pho in our very own kitchen.  Thank you so much Jaden (believe me, mrChaos thanks you too)!
Cost Analysis:
4 lbs beef knuckles: $2.99
1 lb top round, thinly sliced: $4.12
bean sprouts: $0.21
rice noodles: $1.75
ginger: $0.88
lime: $0.30
basil: $2.29 (ugh)
Total Cost for 6 servings: $12.54 or $2.09 per serving
Kind of makes me feel silly for paying $9.99 for a bowl at our local noodle house…

Posted in Budget