May 13th, 2009 by katie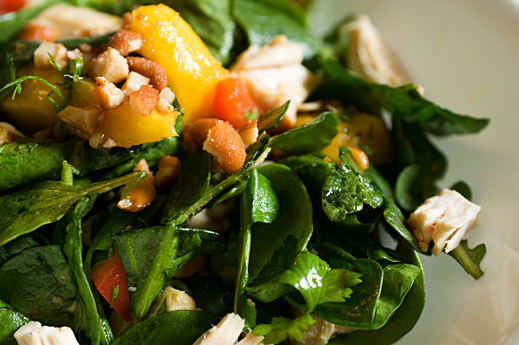 This salad deserves a much better name than the generic Asian Chicken Salad.  I actually make another Asian Chicken Salad with edamame and won ton strips so perhaps this one should be Asian Chicken Salad with Mango.  Bon Apetit actually calls it Asian Chicken Salad with Roasted Peanuts.  Whatever you call it, it is really good.  It is a nice, light dinner salad that it a little different and interesting and best of all doesn't leave you feeling unsatisfied.  Of course you could serve some Balsamic Strawberries for dessert just in case.
Salads are such family friendly dishes.  Most of the ingredients are easy to chop or tear which means you can really get everyone involved in prepping.  My kids (4 and 7) wash the produce and use these plastic knives
to cut and chop the fruits and vegetables. They measure out and mix the salad dressings.  They toss the final salad together.  I would love to tell you they then happily gobble it up, but of course that isn't exactly true.  However it does goes a long way towards making them familiar and comfortable with salads and vegetables.  They taste the different ingredients and learn how to prepare them.  They feel a sense of pride in the dinner and they do eat a deconstructed version of the salad.
With mango, chicken, and honey roasted peanuts this is a pretty kid-friendly salad-which means it should go over well with anyone who isn't big into salads.
Asian Chicken Salad with Roasted Peanuts and Mango
serves 6, prep 20 min, adapted from
Bon Apetit, March 2002
approx 1/2 cup Asian-style dressing, to taste (see below)
1/4 cup fresh cilantro, minced
2 tbsp fresh ginger, grated or minced
10 oz fresh baby spinach, arugula, or other salad greens mix
2 cups sliced bell peppers, red, yellow, or orange
3 green onions, thinly sliced
3 chicken breasts, cooked and chopped (or the meat from a rotisserie chicken)
1/2-1 cup honey roasted peanuts, crushed
1 mango, pitted, peeled and sliced
Mix dressing, cilantro, and ginger in a small bowl.  Let stand.
Toss salad greens with peppers, onions, chicken, and peanuts.
Dress salad to taste and toss to combine.
Add mango and serve.
I save jelly jars to make salad dressing in.  I write the recipe out on a large sheet of paper and let the kids make it.  They read the recipe and measure and add each ingredient to the jar then screw on the lid and shake it to combine.  If you don't want to make your own dressing my favorite Asian dressing is Girard's Chinese Chicken Salad dressing.
Asian Dressing
makes approx 1 cup, prep 5 min
3 tbsp rice wine vinegar
1 tbsp lime juice
1 tbsp sugar
3 tbsp lite soy sauce
1/2 tsp dry mustard
2 tbsp sesame oil
1/4 cup peanut oil (or other mild salad oil)
Combine all ingredients in a small jar or other.
Shake to combine.
So clearly we are trying to eat lighter around here.  I would love to hear about some of your favorite lighter recipes!
Oops, forgot the Cost Analysis:
1 rotisserie chicken: $6.99
organic baby spinach and arugula mix: $5.99
mango: $0.75
red jumbo bell pepper: $1.29
honey roasted peanuts: $0.31
Total cost for 6 servings: $15.33 or $2.56 per serving
Obviously buying pre-mixed salad greens and a rotisserie chicken made this meal more expensive than it had to be.  On the other hand, it was gymnastics night and this quick and easy meal meant we ate in instead of going out. So sometimes it is worth it to pay a little more for convenience.

Posted in Condiments, Cooking with Kids, Easy, Fast, Main Dish, Salads