April 15th, 2009 by katie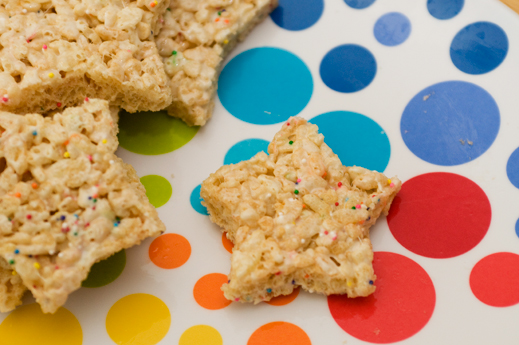 I know I have been blowing your culinary mind lately but, seriously, when is the last time you made Rice Krispie Treats? Ok, now when was the last time you bought Rice Krispie Treats?  Hopefully your answer to the second question was, "Buy Rice Krispie Treats?! Why would anyone ever do such a thing?"  And if you've never made them before either, then you should.  Warning: I don't know the yield on these because we ate half the sheet before I could finish cutting the shapes. They keep well in individual ziplock bags in the pantry or you can also hide them in the freezer if you want them to last longer.
Rice Krispie Treats
makes a dozen ?, cook 5 min
6 cups puffed rice cereal
10 oz mini marshmallows
2 tbsp butter
1 tbsp sprinkles (optional but aren't they just the cutest?!)
Melt butter in a saucepan.
Stir in marshmallows, heat and stir until liquefied.
Stir marshmallow mixture into cereal, add sprinkles if desired.
Press mixture into a greased 8×8, 9×13 or jelly roll pan using waxed paper.
Firm in the refrigerator, then cut into bars or shapes with a greased knife or cookie cutters.
Cost Analysis:
6 cups Rice Krispies Cereal: $1.55
1 10 oz bag marshmallows: $0.97
2 tbsp butter: $0.25
Total cost for 1 dozen: $2.77 or 23¢ per treat

Posted in Budget, Cooking with Kids, Desserts, Easy, Fast