April 2nd, 2009 by katie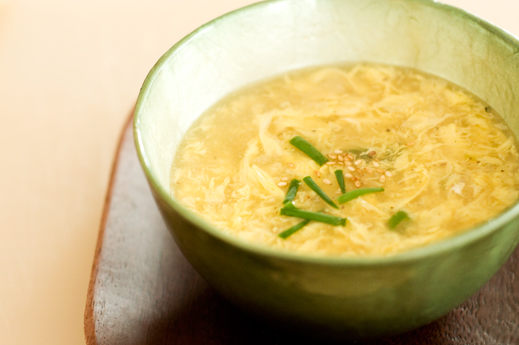 Back to the budget recipes!  Since a dozen locally produced, cage free eggs only costs $2.19 in our area, it makes sense to try to fill out of meals with protein from eggs as often as possible.  I am not the hugest fan of quiche or frittatas so when I need to make a meal out of eggs I fall back on a family favorite: fried rice.  Rounded out with bowls of egg drop soup and steamed edamame or sugar snap peas, it is a fun, cheap meal.  I have covered fried rice before in budget-minded posts back before most of you were reading so I direct you there for some great fried rice tips.   Here, I will guide you through a little restaurant style egg drop soup.
If you have ever tried to make egg drop soup at home and have been disappointed because the egg seems to "blow up" in the boiling chicken broth and not make the pretty ribbons you get at restaurants, then you are in good hands.  I have been disappointed many a time by homemade egg drop soup-one of my favorites during cold and flu season.  The soup is too thin, not yellow enough, not eggy enough or the egg is flaky rather than in billowy ribbons.  We finally figured out the secret and I will share it with you!
Egg Drop Soup
serves 4-6, prep 10 min, cook 10 min
4-5 cups good chicken broth
1 tbsp corn starch
1 tsp ground ginger (or about 2 inches of fresh ginger root)
1 garlic clove
2 green onions, sliced
4 eggs
1 egg yolk
1/4 cup corn kernels (optional)
Combine about 1/4 cup chicken broth with cornstarch.
Bring remaining chicken broth, ginger and garlic (whole) to a boil.  Stir in cornstarch mixture and continue to simmer.
Beat together eggs and egg yolk, remove ginger piece and garlic clove with a slotted spoon.
With the soup at a boil, turn off the heat.
Stir the soup in a single direction while pouring the egg mixture into the hot soup in a thin stream.
Once eggs have cooked into thin ribbons, add green onions and corn if desired.  Season with salt and pepper.
You can keep the soup warm over low while preparing the rest of the meal.
Cost Analysis:
chicken broth: $2.49 (mine was free, but this is the cost of 4 cups of Kitchen Basics my favorite brand)
5 cage free local eggs: $0.91
1/4 cup frozen organic corn kernels: $0.25
2 green onions: $0.17
2 inch fresh ginger root: $0.22
Total cost for 4 servings: $4.04 or $1.01 per serving

Posted in Budget, Easy, Fast, Main Dish, Sides, Snacks/Appetizers