March 1st, 2009 by katie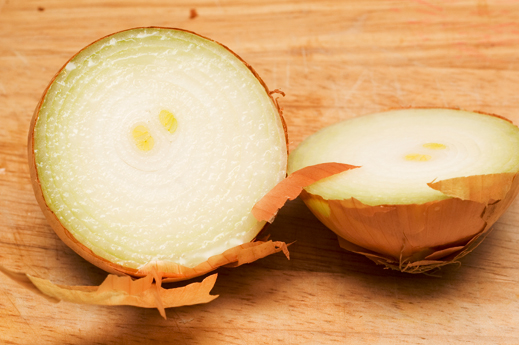 Anyone who knows me personally, knows that I am skeptical by nature.  So when a friend of mrChaos first told me that I should put onions on a burn, I told him he was full of it.  He claimed putting a cold sliced onion on a burn would take away the pain, prevent blisters, and heal it faster.  "Of course," I said,"cold onions, duh.  I'll just use cold water thank you very much."   And so it went, he would claim that if I would just use an onion I wouldn't have so many blisters and scars (I'm a little clumsy in the kitchen) and I would tell him to stuff it and stop talking voodoo in front of my kids-until the night I made cornbread in my huge cast iron skillet.  The cornbread was baking at 450°F for about 20 minutes when I reached in the oven and grabbed the handle of the skillet with a pot holder.  Apparently, I didn't cover my whole hand because I felt the heat immediately as the handle pressed into my hand.  I jerked away and ran to the sink, taking only a second to see the seared imprint of the skillet handle on my palm before I plunged in into the stream of cold water.
After keeping the cold water running over my hand for about 10 minutes, I was miserable.  It hurt like crazy in the water and I knew how bad it was going to hurt when I had to finally turn the water off.  mrChaos found half of an onion in the fridge and offered it to me simply to have something cold to hold in my hand so I could turn off the water and move around the house.  I took it but my hand hurt so bad that I quickly traded it in for an icepack wrapped in a kitchen towel.  It still hurt and just knowing how bad the blister was going to be-on my right hand!-was grossing me out.  So in walks the friend, who immediately begins insisting that we need to put a fresh chopped onion on the burn-not a cold onion, not a previously chopped onion, a fresh chopped one.  We have a basket of onions and garlic on the kitchen counter at all times; mrChaos grabbed a big one, whacked it in half with the chef's knife, and handed me one juicy side.  I figured I could at least try it and when it didn't work I could put my ice pack back on, it couldn't get worse at this point.
Holy cow but it worked!  The pain went away immediately.  Anytime it started to burn a little I would squeeze out a little more fresh onion juice and it immediately felt better.  After about 30 minutes I was able to take the onion away completely without the burn hurting.  Not only that but the skin over the blister was thicker and more sturdy that any burn blister I had ever had before.  In fact, now two weeks later there is almost no trace I even had a burn.  The blister never broke no matter how I abused it (remember it was in the palm of my right hand), and I was able to wash hot dishes and take a hot shower the next day without any discomfort.  I don't know why it works but it must have something to do with the fresh onion juice.  Of course for a serious burn, where the skin is broken, I would go to the emergency room but for your general kitchen burns it is an incredible solution.  Try it next time and see if it works for you.

Posted in Health/Nutrition, Me, Tips and Tricks