March 11th, 2009 by katie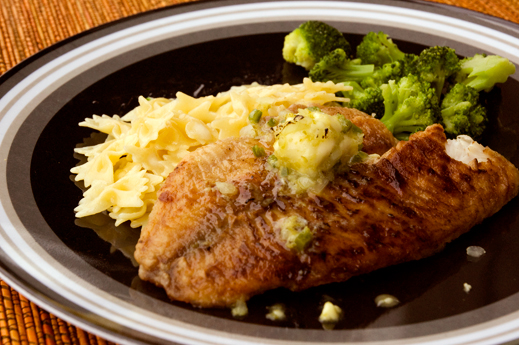 Our family loves fish and seafood.  Any meal guaranteed to have everyone happily clearing their plate is a winner in the chaos kitchen so I have learned a lot about buying fish (read: anything that lives in water for the duration of the post-shrimp, salmon, tilapia, scallops, etc..) over the years.  I used to think the "fresh" fish in the case at the grocer was the best choice for freshness but now I know better.  Generally the fresh fish in the case is actually previously frozen fish that was been thawed.  Which is fine if you plan to rush home and cook your fish immediately.  However if your intention is to cook your fish later on or even to freeze your fish for another time then previously frozen and thawed fish is not the best choice.  Buying frozen fish allows you to thaw the fish yourself immediately before cooking by running it under cool water while prepping your other ingredients.  Frozen fish and seafood is not only a better choice for freshness but it is usually much cheaper.  Anytime there is a big frozen seafood sale we stock up and throw it all in the freezer-enabling us to have fresh seafood meals throughout the year without having to scrimp.
For example our local grocery store has "fresh" tilapia for sale this week for $6.99/lb-previously frozen tilapia fillets that have been thawed, wrapped in plastic and Styrofoam and placed in the refrigerator case for about a week while the sale was going on.  The exact same tilapia in the freezer aisle was $7.98 for a 2 lb vacuum sealed bag.
Tilapia with Lime-Pepper Butter
serves 6, prep 10 min, cook 15 min, adapted from
Gourmet, July 2003
2 lb tilapia fillets, thawed
8 tbsp (1 stick) butter, room temp
2 tbsp finely chopped shallot
4 small limes, juice and zest
1 small pepper, jalapeno or serrano, minced
2 tbsp oil
flour
salt and pepper
Thaw tilapia under cool running water while making lime butter.
Combine butter with lime juice and zest, shallot, and minced pepper. Reserve.
Once tilapia fillets are thawed, dust lightly with flour, season with salt and pepper.
Heat 1 tbsp oil in a skillet over medium heat and sear tilapia fillets for several minutes on each side.
Once fish flakes easily, transfer it carefully to a oven proof plate and place in a warm oven while you finish the tilapia.
Serve fish hot with a dollop of lime butter.
I served this with plain pasta to soak up the excess lime butter and broccoli.
Cost Analysis:
2 lbs tilapia fillets: $7.98
1 stick organic butter: $0.50
1 shallot: $0.19
1 jalapeno: $0.33
4 limes: $0.80
2 cups bowtie pasta $1 ($2.50 box-50¢ coupon/2)
2 cups organic frozen broccoli florets: $0.49
Total cost for 6 servings: $11.29 or $1.88 per serving
If you happen to still be reading (or if you skipped to the end-ha ha gotcha!) my other fish buying tip is to never ever pay extra money for "organic" fish.  Whether fish is organically produced is really an argument of semantics since fish live in the wild and "organic" farmed fish are just as bad as regular farmed fish.

Posted in Budget, Easy, Fast, Main Dish, Tips and Tricks