January 10th, 2009 by katie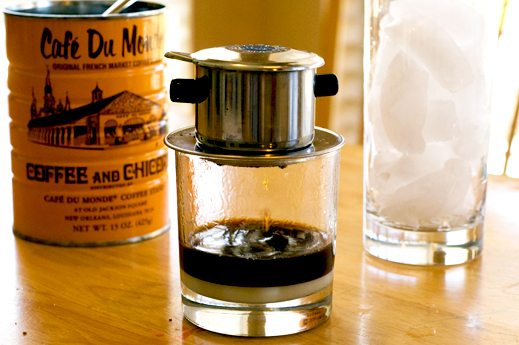 I love coffee. I love to have coffee throughout the day starting with a steamy, hot espresso in the morning. My favorite method of making iced coffee is to blend sweetened condensed milk with a pot of brewed coffee. You can keep this mixture in the fridge and pour over fresh ice as desired. The only problem is I can't quite drink that much iced coffee. I like it more in single servings. Our local Vietnamese restaurant serves not only fantastic Pho but also sells these little Vietnamese coffee presses for about $5.
The method is the same, pour about 2 tbsp of sweetened condensed milk in a glass, add two to three spoonfuls of coffee with chickory
to the press
and pour boiling water to the top. Once the coffee has brewed, top it off a second time with boiling water and watch it brew again. Stir to combine the milk and coffee, then pour over a tall glass of ice. The coffee is smooth and strong, sweet and chocolatey. The perfect iced coffee for a hot afternoon in Houston in January.