December 19th, 2008 by katie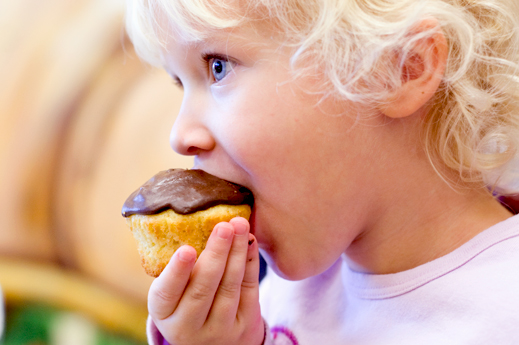 03/09 Update: I have found a yellow cake that I like better than this one.  It is moister and sweeter and can be found here.
Nothing in the world transports me back to childhood like the combination of sweet yellow cake and thick, creamy chocolate frosting. My middle child always requests strawberry cake with cream cheese frosting for her birthday. There were going to be multiple baking opportunities for this particular birthday so for the obligatory classroom cupcakes (princesses for the girls and batman for the boys-my kids always require gender specific cupcakes) I went with the gender neutral, always perfect, combination of yellow cake and chocolate frosting.
Basic Yellow Cake
makes about 3 cups of batter, prep 5 min, bake 15 min, adapted from
Recipezaar
1/2 cup butter
1 1/3 cup sugar
1 cup milk
2 tsp vanilla
2 eggs
2 cups flour
3 tsp baking powder
1 tsp salt
couple drops of yellow food coloring (optional, but what's a birthday without some yellow #5)
Preheat oven to 350°F. Grease 13×9 pan or place cupcake liners in a cupcake pan.
Combine and cream butter and sugar.
Mix in milk, vanilla, and eggs. Beat for 2 min.
Combine dry ingredients: flour, baking powder, and salt, in a bowl. Add dry ingredients and food coloring, if desired, to wet ingredients and stir just to combine.
Pour batter into cake pan, makes about 16-18 cupcakes depending on size. I got 16 but I tend to overfill my cupcakes.
Bake for 15 min for cupcake or up to 30 min for sheet cake, or until tester comes out clean.
Chocolate Buttercream Frosting
prep 5 min, adapted from
Recipezaar
1/2 cup butter
1/3 cup milk
2 tsp vanilla
1 tbsp corn syrup
2 cup confectioner's sugar
1/2 cup cocoa powder
Cream butter.
Beat in milk, vanilla, and corn syrup.
Beat in sugar and cocoa.
Add additional cocoa by the tablespoon as needed for thicker consistency or deeper flavor.
Store frosted cupcakes in the fridge until set, then keep covered at room temperature.
So you'll notice I have been making a lot of not-from-a-box cakes lately. I really like making cakes from scratch and it isn't any harder than making a boxed mix. My three-year old (actually the four year old) will tell you that to make cake you need eggs, sugar, butter, and flour-and that makes me happy. But I have noticed all of the cakes come out drier than boxed mixes. No matter how diligent I am about removing them the instant the centers are set, they still seem dry. So what's the deal internet?

Posted in Desserts, Easy, Uncategorized