December 31st, 2008 by katie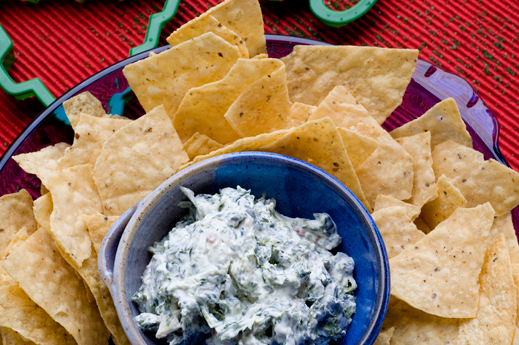 Quick, before the New Year's dieting begins, I want to give you a quick easy spinach dip recipe. This is my favorite basic spinach dip combo-feel free to tweak it by adding whatever spices or other veggies you like.
Spinach Dip
makes 3 cups, prep 10 min
1 16 oz bag frozen, cut leaf spinach
2 cups sour cream
8 oz cream cheese, room temp
seasonings
Place frozen spinach in a strainer and run under cool water to quickly thaw.
Dump thawed spinach onto a clean dish towel, bring up the sides and twist over the sink until the liquid drain from the dish towel. Twist tighter and tighter until you get as much liquid as possible.
Beat cream cheese and sour cream together until smooth. Stir in spinach and any seasonings.
Chill before serving.
For the seasonings you can add a veggie soup mix packet or salt, pepper and garlic powder or dill. I have always used the soup mix in the past but I'm not sure it really adds much flavor-wise as it is mostly salt. I like to add a generous amount of salt and cracked pepper, a teaspoon of garlic and a few pinches of dill and mustard.

Posted in Snacks/Appetizers