December 17th, 2008 by katie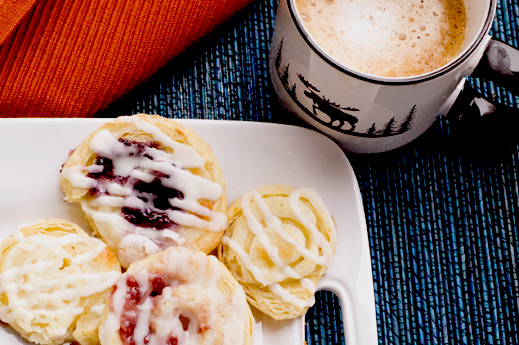 They aren't really bite sized (I guess it would depend on your bites) but they are smaller than the huge danishes you get from the store.  These little pastries are sweet and delicious.  A great treat to bring to a brunch as you don't want these babies sitting around your kitchen-tempting, calling, whispering, screaming eat me I'm sweet and buttery and flaky and creamy.   The easy in the title comes from the fact that I am using puff pastry dough rather than making fresh danish pastry dough.  Although I called this project: operation destroy the kitchen at nine o'clock at night, I wasn't so crazy as to actually attempt danish pastry dough at that time.  I'm no daring baker.
This recipe was originally intended to be used with refrigerated crescent roll dough but I think the pop can dough tastes weird so I wanted to make them with puff pastry instead.  If you like crescent dough it is even easier-just slice the dough into 1/4 inch disks (don't unroll the dough) and make an indention in the middle, fill with your preferred flavor and bake. The puff pastry dough works a little differently so after a few experiments I determined you have to make them jelly roll style.  Spread your danish filling over the puff pastry dough then roll up, slice and bake.
Individual Mini-Danish
thaw puff pastry 40 min, prep 5 min, cook time 45 min, adapted from
Recipezaar
4 sheets puff pastry
1 egg
1 tbsp water
2 8oz. packages of cream cheese
1 cup sugar
2 tsp lemon juice
1 1/2 tsp vanilla
1 tbsp sour cream
best quality fruit preserves or curd
1 cup confectioners sugar
1-2 tbsp milk
1 tbsp butter, soft
Set puff pastry out to thaw.  Preheat oven to 400°F.  Line baking sheets with parchment paper (I recommend this over greasing them because they get pretty sticky, but you could just grease them really really well). Beat egg and water for brushing over pastry.
Make your cheese filling by combining cream cheese, sugar, lemon juice, vanilla, and sour cream with a mixer until fluffy and smooth.
Once puff pastry is soft, work with one at a time storing the other sheets in the fridge. Lay sheet out on a large cutting board with short side toward you, brush sheet with egg.  Spread the bottom 3/4 of sheet with about 1/4 of cheese mixture. For fruit danish: add dollops (several tbsp or about 1/4 cup total) of fruit preserves or curd evenly about mixture.  Roll pastry sheet tightly but without pressing out all of the filling. Place roll in the freezer and continue with each sheet.
Remove first roll and quickly slice and place slices on parchment lined baking sheet. Place sheet straight in the oven or refrigerate to keep cold.
Bake cold sheet for 15 min. Cool danish on sheet about 1-2 min them remove to a rack. Chill sheet for next batch, continue from step 4 until all are baked.
With a hand mixer or whisk, combine confectioner's sugar, milk and butter until smooth. Start with 1 tbsp of milk and add more until drizzle-able.  Drizzle danishes lightly with icing.
Enjoy with strong coffee! These get sticky so keep them covered and make them as close to serving time as possible.  I made mine the night before and they did fine.

Posted in Breakfast, Snacks/Appetizers