December 3rd, 2008 by katie
Gawd I am such a poser. I don't know the difference between a vinaigrette and an emulsion-or why it matters?!-but I trust the food dictionary at epicurious.com. And if you don't watch Top Chef then just forget I even said anything. Oh and if you don't watch Top Chef you really should: it's a good time.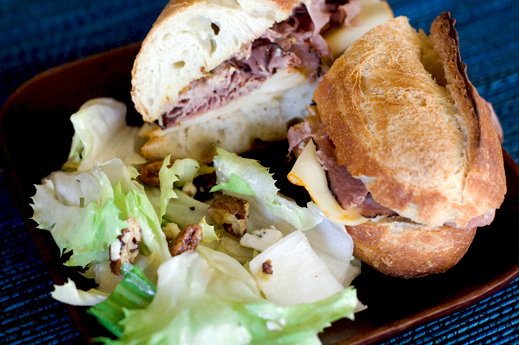 Now that that's out of the way. A big fat thank you to all of the food bloggers posting salads this week. All I want to eat forever right now is a big, fresh light salad. Unfortunately I can hardly fit any lettuce in the fridge right now due to the avalanche of leftover containers that threatens every time I open the door. Here is an easy, winter salad of escarole, Belgium endive, blue cheese and pecans dressed with a pear infused vinaigrette. I know, fancy pants, huh?
The dressing is a simple 3 parts oil to 1 part vinegar combination but the secret is to scrounge your grocer's vinegar section for interesting and different flavors. This dressing was olive oil and pear infused white balsamic vinegar with a little chopped shallot, mustard , and salt and pepper. Salad dressing are so mystical when staring you down from the bottle on the grocery shelf. But in real life they are simple and easy and can be made any way you like them. Oh and the connection to the whole emulsion thing? The glossy thick dressings at the store are simply the oil and vinegar emulsified into a thick sauce (hopefully, otherwise its probably just additives that make it thick-let's not think about it) but it is a little tricky to do by hand with a whisk. Your homemade dressing will probably separate but no worries, just give it a good shake.
Basic Vinaigrette
makes 1 cup, prep 5 min
1 garlic clove, minced to a paste
1/4 cup vinegar, red wine or balsamic
1 tsp shallot or chopped onion
1/2 tsp coarse grain mustard
3/4 cup oil, olive or nut
salt and pepper
Combine all ingredients and whisk or stir before serving.
If you want to try an emulsion, combine all ingredients except oil then slowly dribble in oil while whisking steadily. Don't be disappointed if it still separates.

Posted in Condiments, Easy, Fast